This collection of photographs of Connecticut was collected from the Library of Congress and other sources throughout the internet. Each picture depicts a scene from in Connecticut from 1861 – 1977.
We created this collection so residents of Connecticut can better understand the history of their state and take a glimpse into the lives of the people who used to live there.
#1: The First Summer Camp, Washington, CT – 1861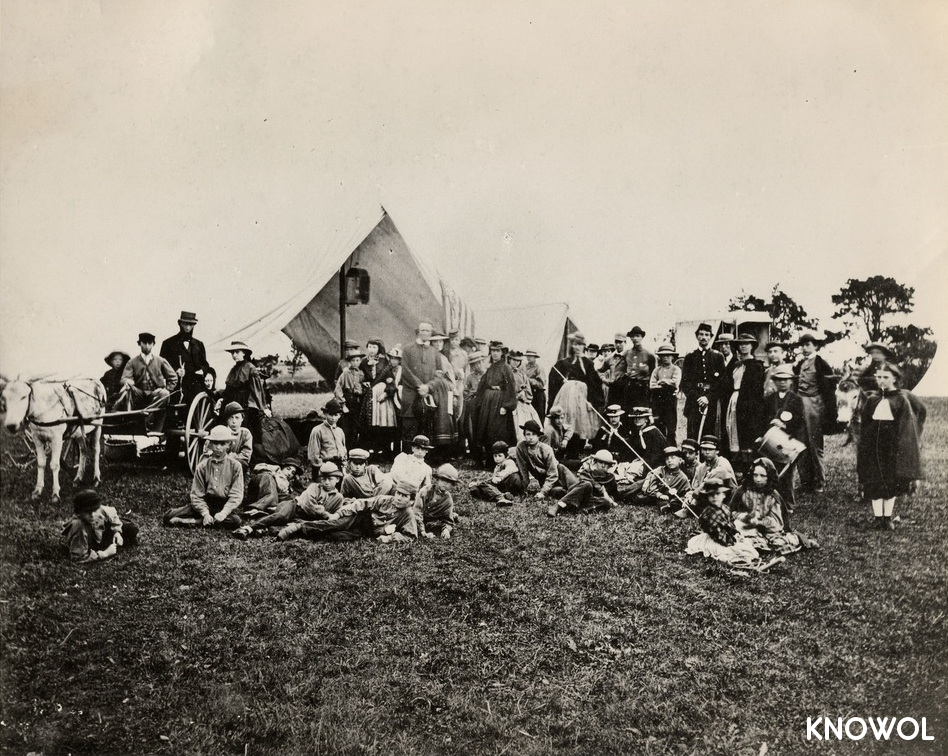 The Gunnery Camp is considered the first organized American camp. Frederick W. Gunn and his wife Abigail operated a home school for boys in Washington, CT beginning in 1850.
In 1861, they took the entire school on a two-week trip. They hiked to their destination, set up camp, and spent two weeks boating, fishing, and trapping. The trip was so successful that they continued the tradition for the next twelve years.
#2: Yale Men Dressed in Drag, New Haven, CT – 1880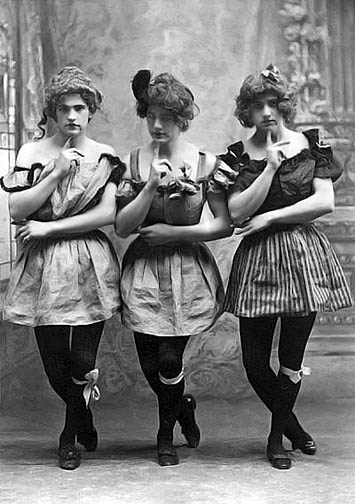 Yale didn't go co-ed till 1969, so these fellas were dressed up as women for a play. The New Haven newspaper even lamented "no woman is as beautiful as a Yale man impersonating femininity".
#3: African American Baseball Team, Danbury, 1880
A photograph showing 23 men wearing suits, with one holding a baseball bat. The men were members of an African American baseball team in Danbury, Connecticut.

#4: The Middle River Cowboys, Danbury, CT – 1888
This group of baseball players was called "The Middle River Cowboys". They were a baseball team comprised mainly of hat makers from the Mallory Hat Factory.
All of the men wore bowler hats, except for pitcher Rob Hall, who chose to wear a baseball cap because his bowler hat would fall off every time he threw a pitch. The team was one of many amateur and semi-pro teams in Danbury at the time.
#5: Teddy Roosevelt in Electric Car, Hartford – 1902
Theodore Roosevelt enjoying the first ever public car ride by a U.S. president in Hartford, Connecticut. President Roosevelt is riding in an electric car with Jacob L. Greene, president of the Connecticut Mutual Life Insurance Company. The police are riding Columbia chainless bicycles.
#6: Train Crash at Hartford Station – 1905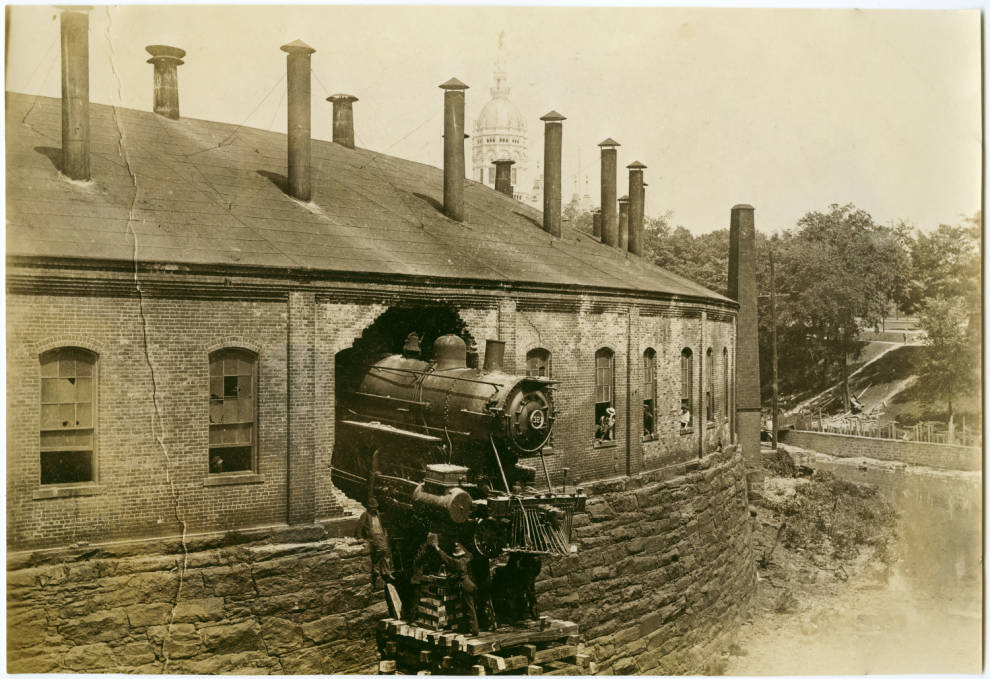 The New York, New Haven and Hartford locomotive was just two years old at the time of this crash. The train started of its own accord and broke through the rear wall of the train station.
The train was repaired and went on to a long and uneventful career in both freight and passenger service before being retired on December 31, 1935.
Three years prior to this crash, on June 22, 1902, another locomotive had a similar incident. Just to the right of where this train smashed through the wall you can see evidence of the earlier accident and repair to the wall. Above the window that is partially obscured by the front of the train engine you can see the crack.
The Connecticut State Capital can be seen in the background.
Source: New Haven Railroad Historical and Technical Association, Inc. and the DeGolyer Library.

#7: Newsies in Hartford, CT – March, 1909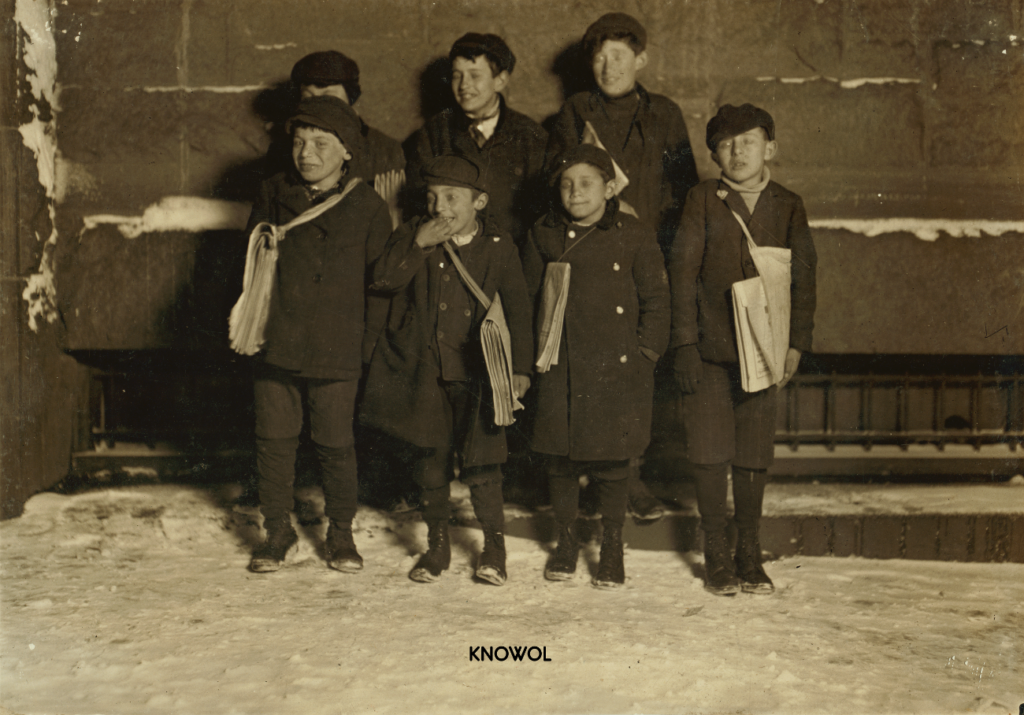 A group of newsies selling newspapers at 9PM although it was bitter cold and snowing. The smallest boy was 8 years old and said he had been selling newspapers for three years. The boy to the left of him is nicknamed Bologna, and he has been selling for 4 years.
#8: "Bologna" the Newsboy in Hartford, CT – 1909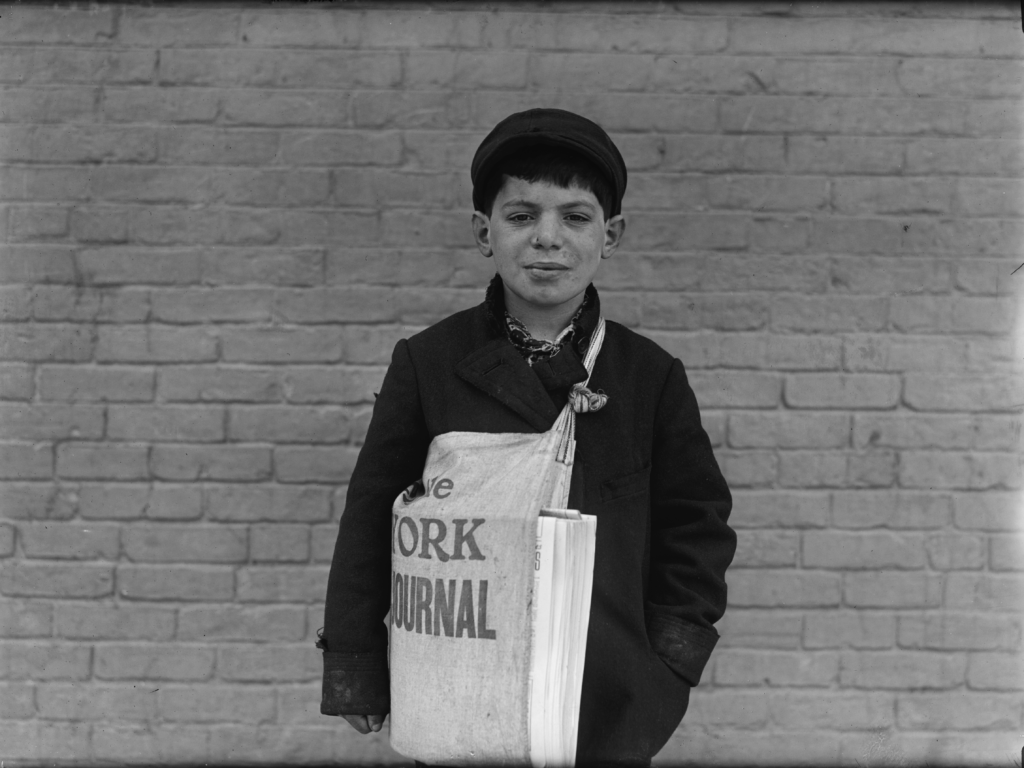 This is a picture of Tony Casale (Nicknamed "Bologna" from the previous picture). He is 11 years old in this picture and sold papers since he was seven, sometimes working until 10 P.M.
The boy's boss told the photographer that Bologna showed him marks on his arm where his father had bitten him for not selling enough papers. Bologna said "Drunken men say bad words to us."
#9: Homeless Newsboy in New Haven, CT – 1909
This picture shows a twelve year old Newsboy named Hyman Alpert selling papers in New Haven, CT. He worked as a newsboy since he was nine years old and spent his evenings in the New Haven Boys Club.

#10: Street Boys Playing Pool, New Haven, CT – 1909
Boys playing pool at the Bancroft-Foote Boys Club in New Haven. The photograph was titled, "One way to control the street boys."
#11: Yale Hill Climb Competition, West Haven – 1909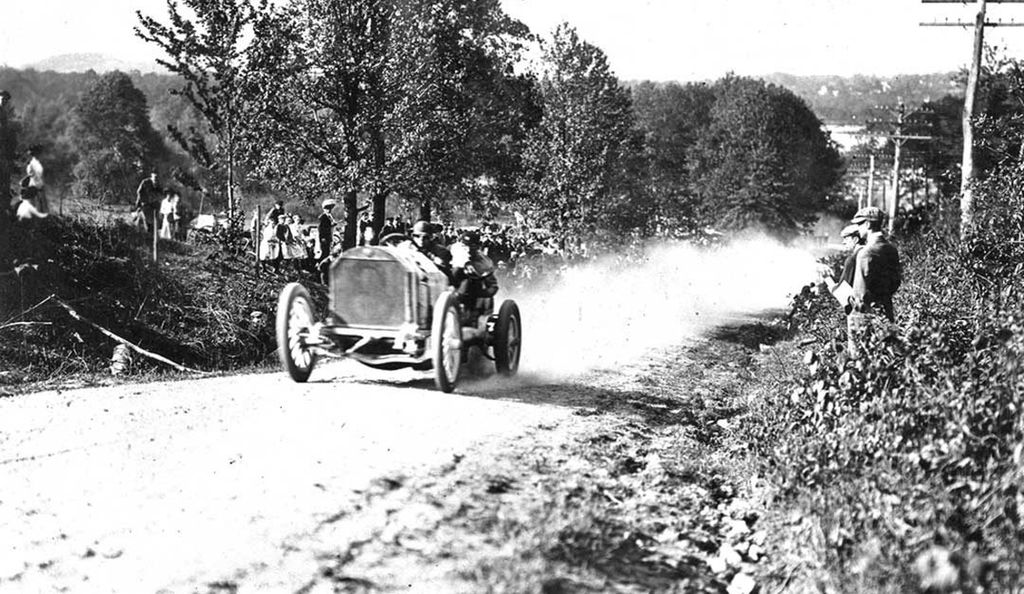 The Yale University Automobile Club's event was held at least twice, in 1909 and 1910. The 1909 event attracted 15,000 spectators. Like many hill-climbing events, the competition was divided into categories based on the price of the automobile.
There were five classes for stock cars (ranging from $800-$4,000+), a 6th class for stock chassis cars that cost less than $3,000, and an open "free-for-all" category. The overall winner, competing in the "free for all" category, was the 120 hp Mercedes Benz pictured above.
Source: henry_fords_ghost
#12: Yale Freshman Crew, New Haven, CT – 1913
A picture showing Yale's eight freshmen who joined the crew (rowing) team in 1913. The young man in front has the year 1916 on his shirt, which references the groups graduation year.

#13: Submarine Launch in Bridgeport, CT – 1917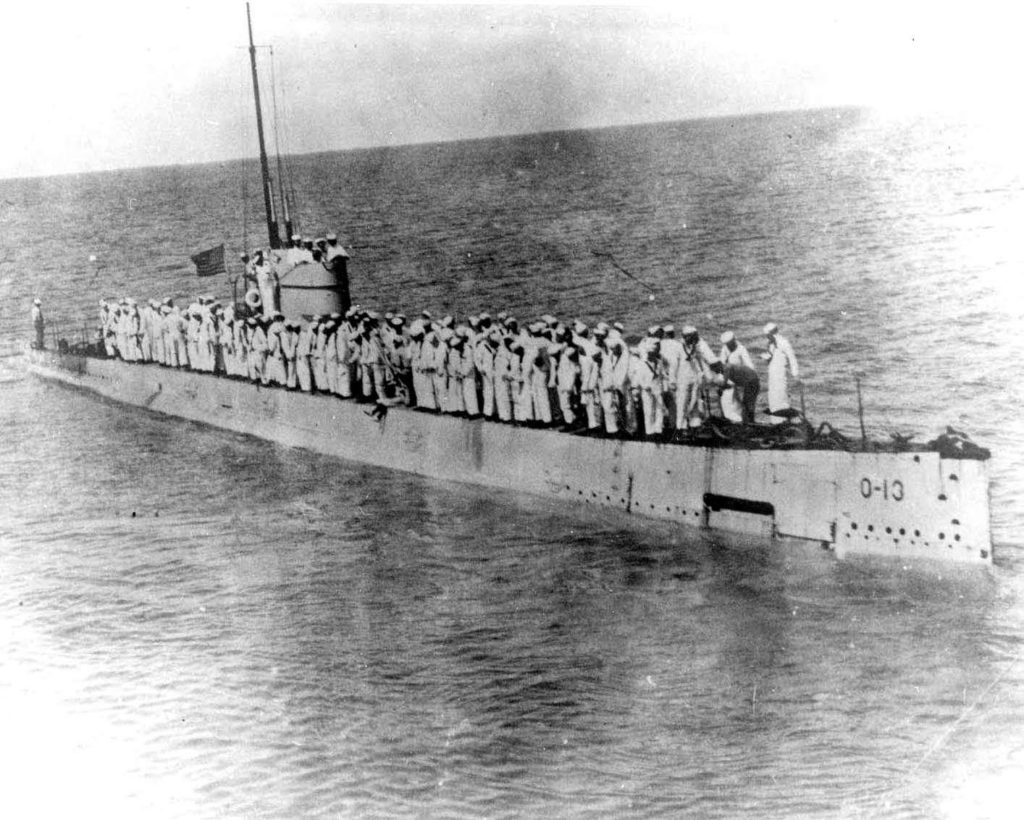 With her crew standing on deck, Submarine USS O-13 (SS 74) is launched by Lake Torpedo Boat Company in Bridgeport, CT, on December 27, 1917.
#14: Making Machine Guns, New Haven, CT – 1914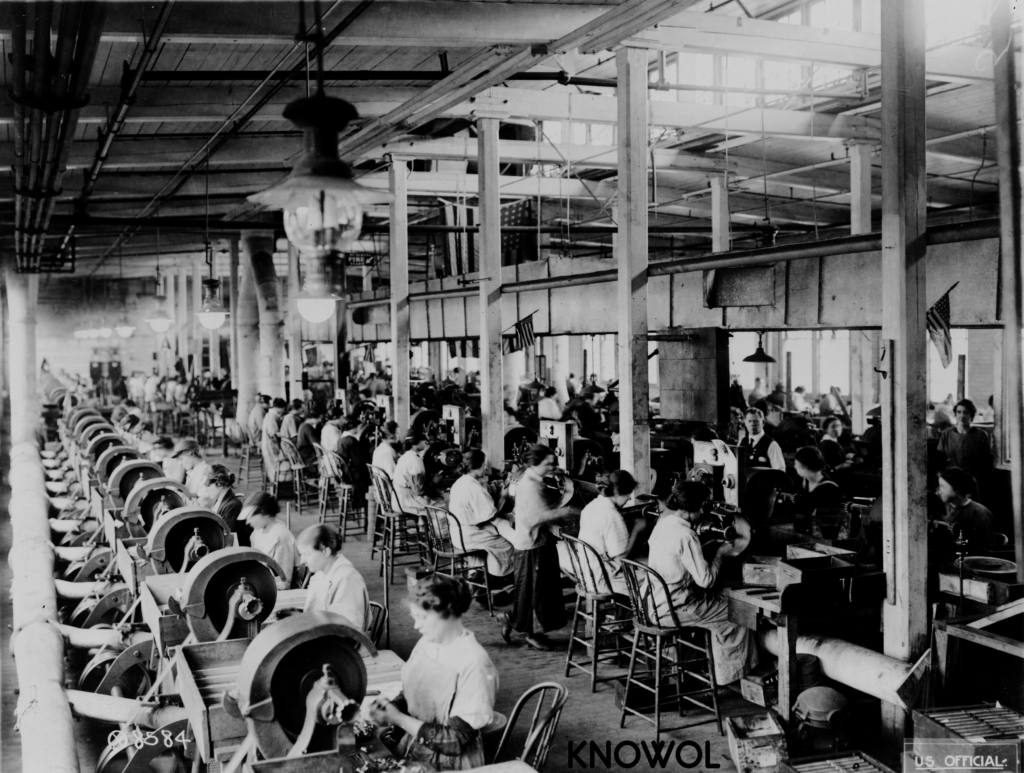 This historical picture shows women making Browning machine guns at the Winchester Repeating Arms company. The guns would later be used in World War I. This is a view of the polishing shop in New Haven, Connecticut.
#15: Blues Legend "Leadbelly" in Wilton, CT – 1935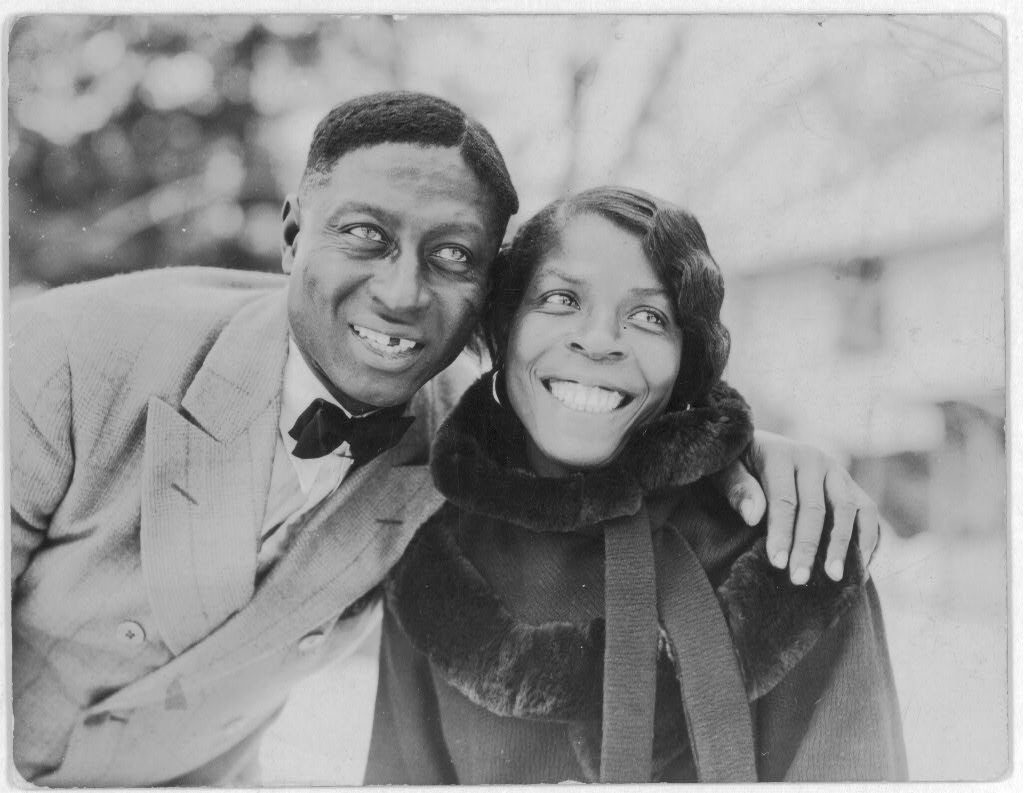 This is a picture of Blues guitar legend Huddie Ledbetter (Leadbelly) with his wife, Martha Promise Ledbetter. He was an American folk and blues musician notable for his strong vocals and virtuosity on the twelve-string guitar.
He also had many run ins with the law and once killed one of his relatives in a fight over a woman. The photo was taken in Wilton, CT. To hear one of Leadbelly's songs, click here.

#16: Katharine Hepburn in Fenwick, CT – 1938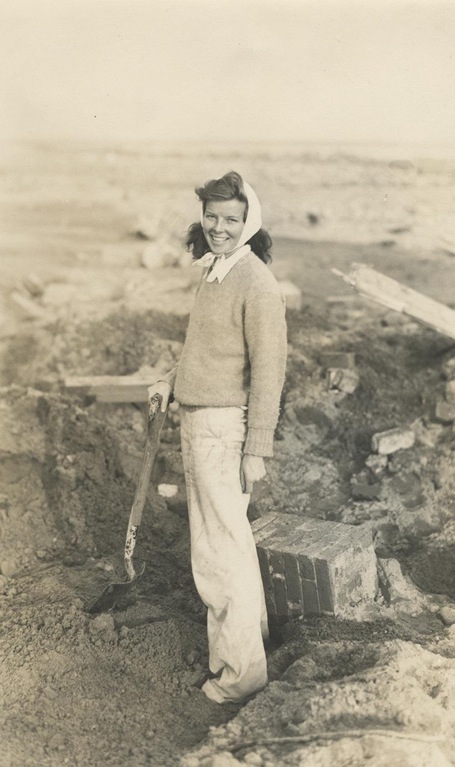 In this picture, Katharine Hepburn at her family's summer home in Fenwick, CT. She is cleaning up devastation caused by the 1938 New England hurricane. Hepburn was born, raised, and died in Connecticut. She was 31 years old at the time of this picture.
#17: Farm Auction in Derby, CT – 1940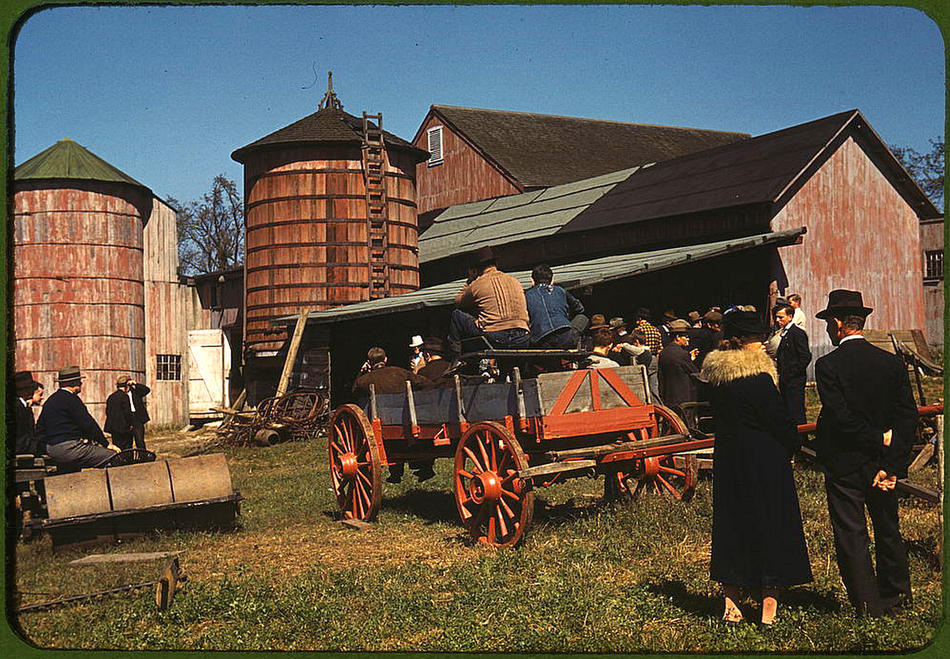 A farm auction in Derby, Connecticut. The contents of the farm was being auctioned off to the highest bidder. You can read more details about this auction at the New England Historical Society.
#18: Thanksgiving Dinner in Ledyard, CT – 1940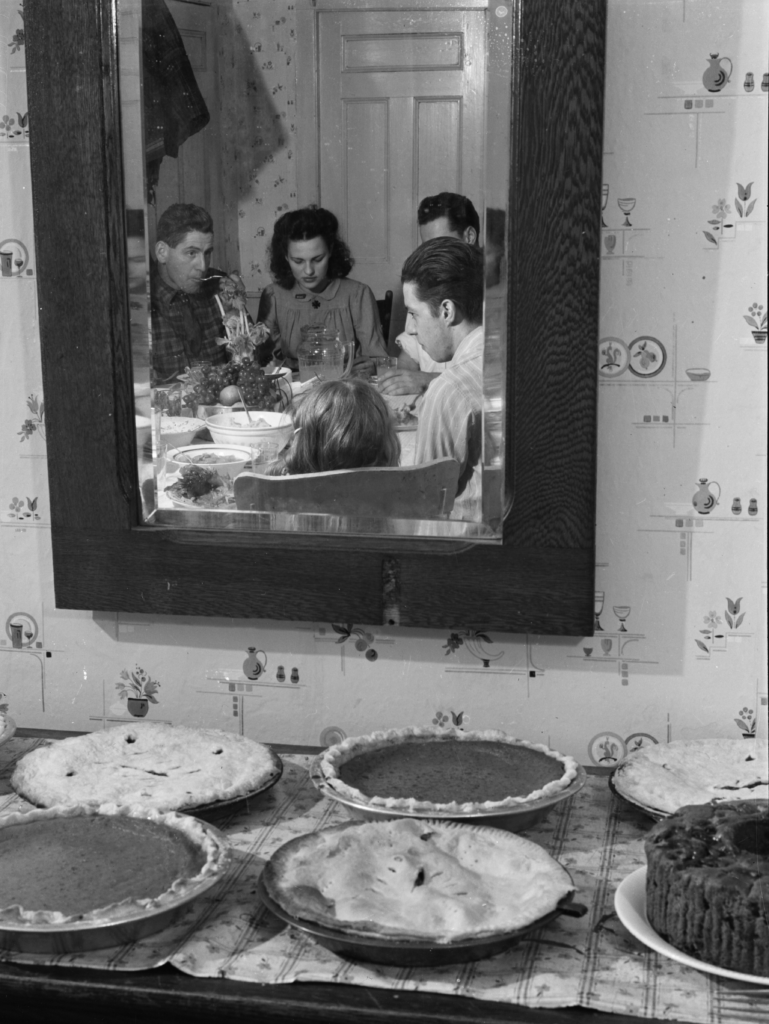 Pumpkin pies and Thanksgiving dinner at the home of Mr. Timothy Levy Crouch, a Rogerine Quaker living in Ledyard, Connecticut. Mr. Crouch was a stonemason and lived on a farm with his family.

#19: Buffing Parts for a Bomber in Bantam, CT – 1941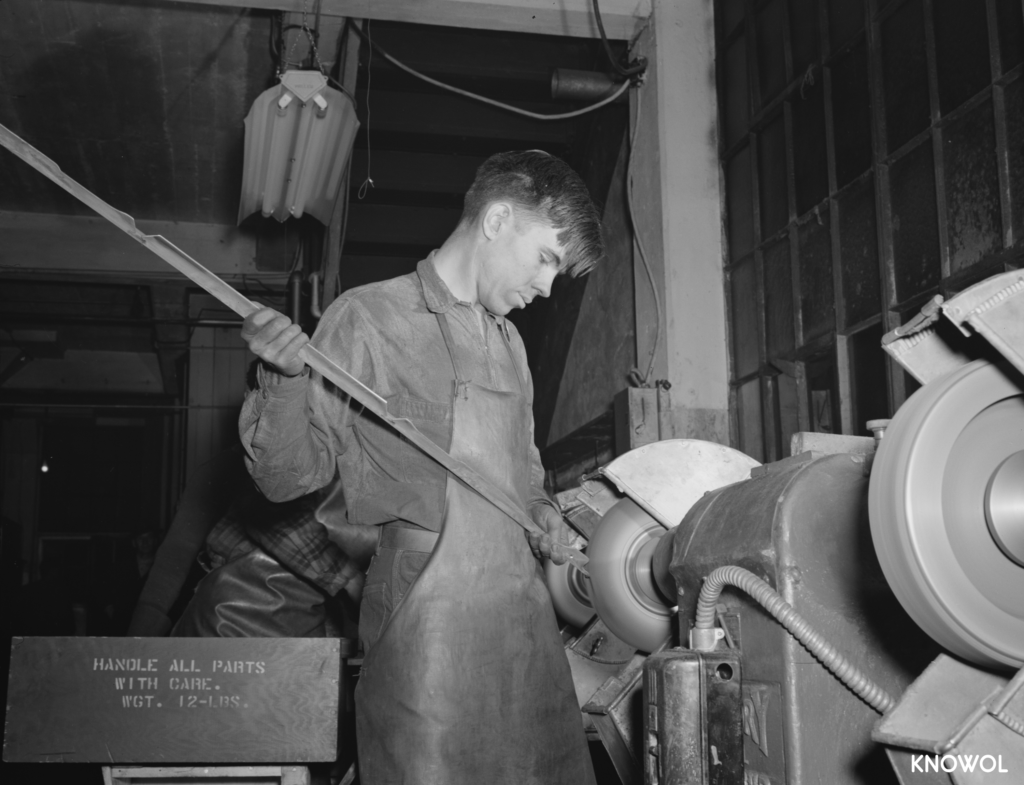 Buffing aluminum supports for bomber seats is nineteen-year-old Gerard Gervais, who moved to Bantam, CT in the fall of 1941 with his older brother Ernest from Plainfield, Connecticut.
The two brothers share a five-room house in Bantam with two aunts and an uncle, who also came to Bantam during 1941 to work at the Warren McArthur plant.
#20: War Workers' Home in Bantam, CT – 1941

Fred Heath runs a turret lathe at the Warren McArthur plant, where he's been working since August 1941. He formerly worked in a machine shop in his native city of Torrington.
The Heaths were one of the first families to move into the new war workers' homes in Bantam, CT. The couple has been married for five years, and previously had been living in a furnished room in Torrington. Mrs. Heath formerly lived in Winsted, a town which had about 25,000 people just a dozen miles from Torrington.
The couple told the photographer that they were proud of their new home and of the comfortable new furniture they bought on an installment plan. They had a kitchen, a large living room, a modern bath, a medium-sized master bedroom and a smaller room for their three-year-old daughter, Ann.
#21: Oxley's Drug Store in Southington, CT – 1942

Women standing outside of Oxley's Drug Store in Southington, CT. The store opened in 1889 and served the community for more than 100 years. The store closed in 1993.
You can read articles on the store's closure in The Southington Observer, courtesy the Southington Library. The photo was colorized by EggsAckley.

#22: Monty's Diner in Southington, CT – 1942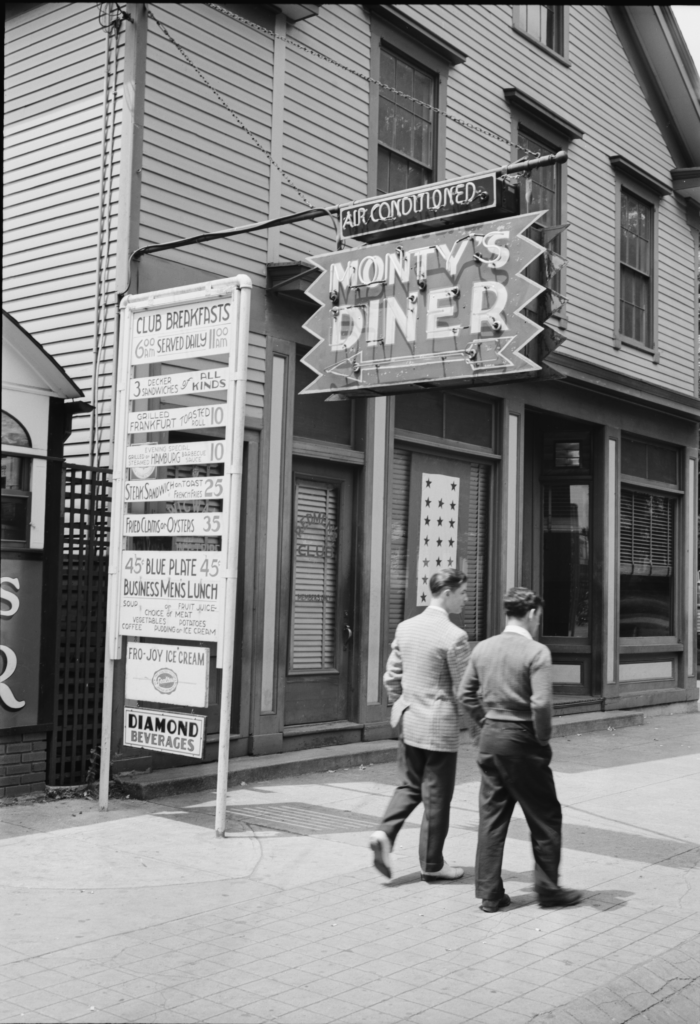 Monty's Diner in Southington CT, May 1942. Next door is the Wigwam and Redmen's Club. If you zoom in you can see a sign for "Steamed hamburgs", a staple food unique to central Connecticut.
Monty's Diner was open 24 hours a day during the war to accommodate shift workers in the town's defense plants, but business declined in the postwar years and Monty's closed in 1964.
#23: Southington High School Marching Band, 1942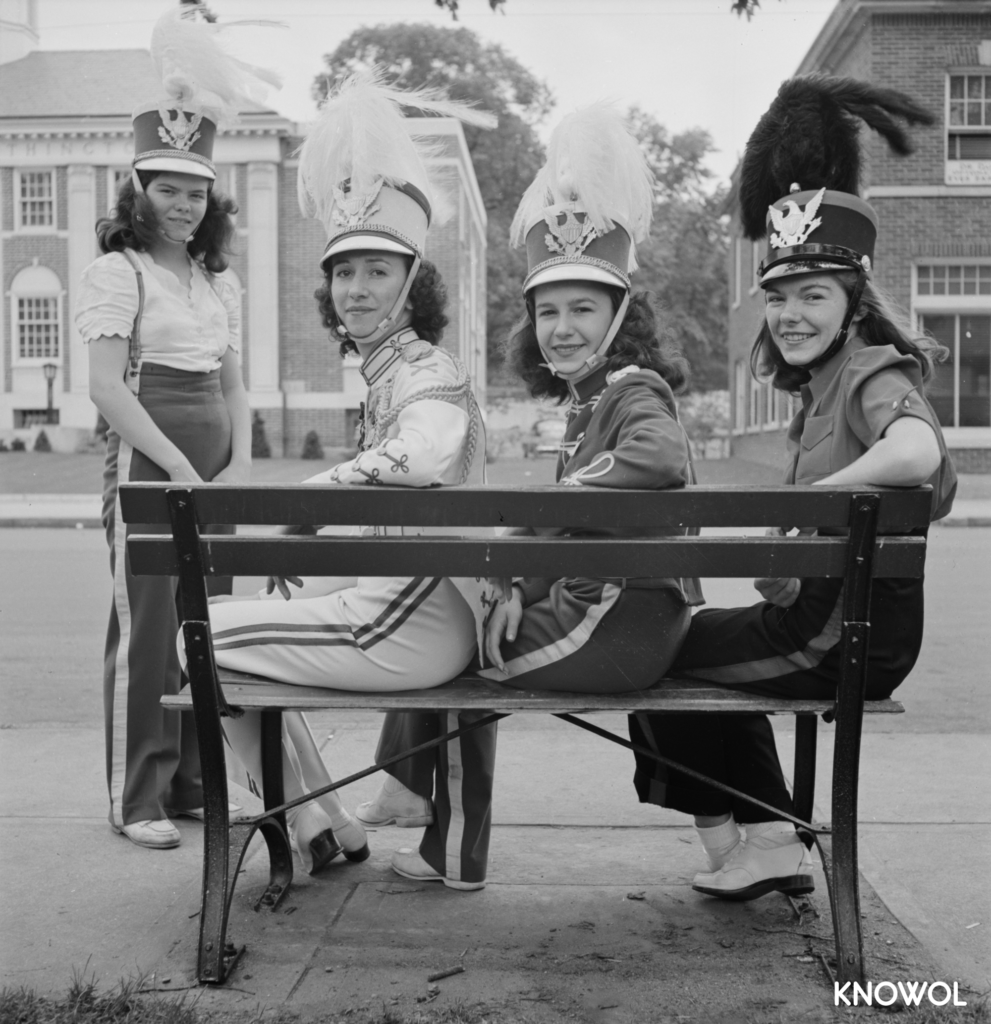 Girls of the Southington High School drum corps in May 1942. If you're from Southington, be sure to check out our collection of 55 incredible pictures of Southington, CT during WWII.
#24: Lake Compounce in Southington, CT – 1942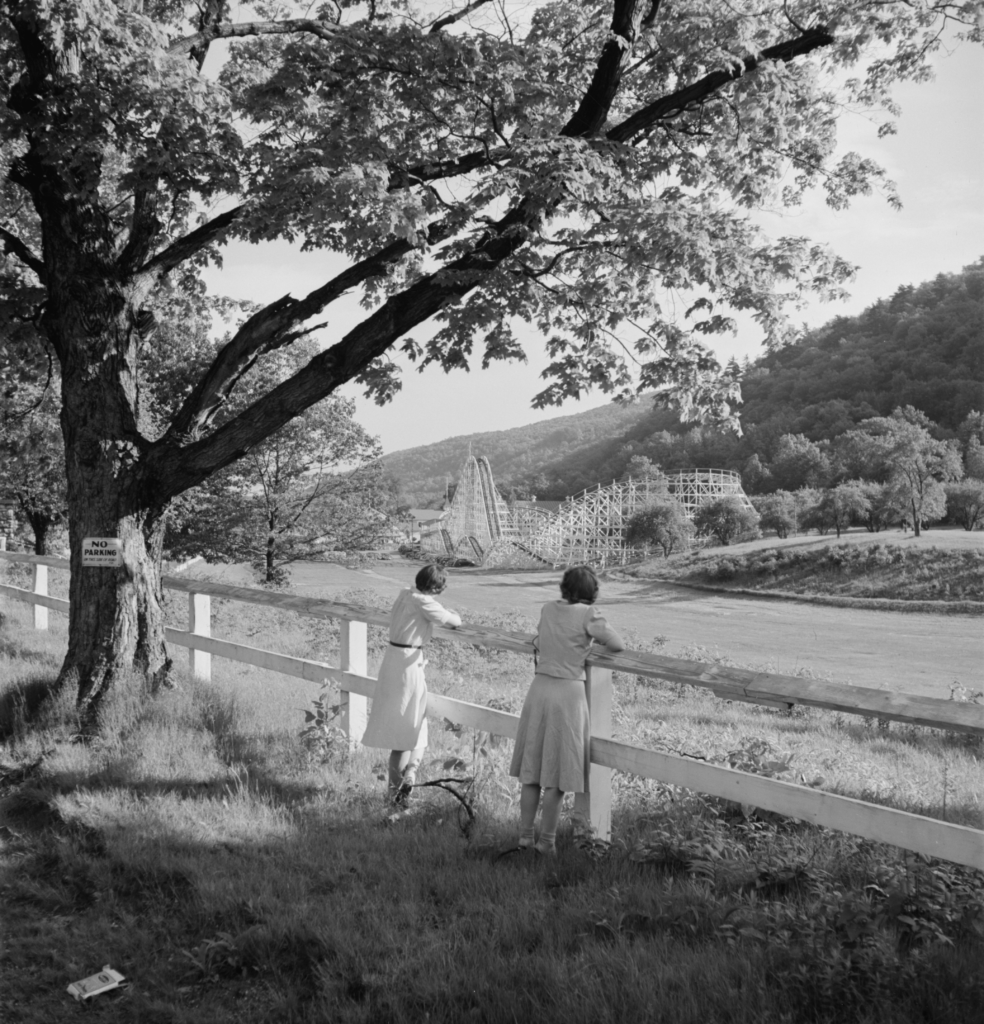 Two girls looking over a fence at Lake Compounce amusement park. To see more interesting pictures from the early days of the park, read this article with fifteen amazing pictures of Lake Compounce from 1942.

#25: Enjoying the View in New London, CT – 1942

A group of United States Navy Coast Guardsmen appreciating the view of two female war-effort workers going off to work.
#26: Making Parachutes in Manchester, CT – 1942
As these two girls thread shroud cords through the material, these yards of silk became more clearly recognizable as one of the many parachutes produced by the Pioneer Parachute Company in Manchester, Connecticut.
#27: Bowling in Bantam, CT – 1942
There used to be a bowling alley in the town firehouse. The revenue from the bowling alley helped to support the town's volunteer fire companies.

#28: Sailor in His Bunk, Groton, CT – 1943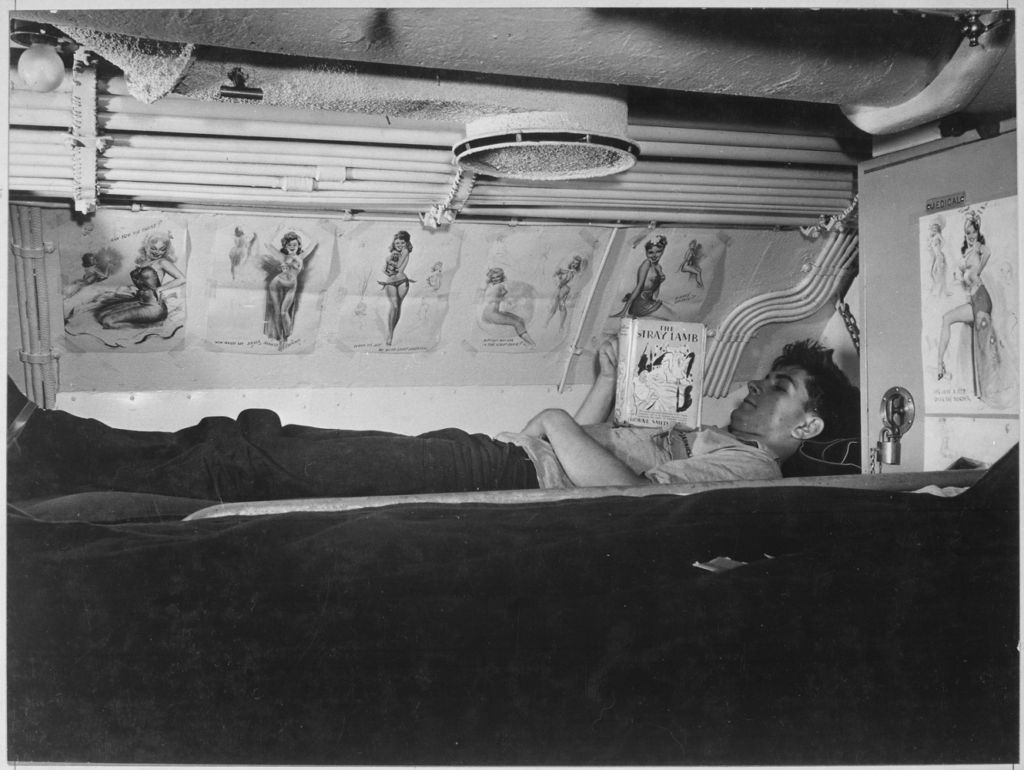 Sailor reading The Stray Lamb (1929) by Thorne Smith in his pinup-decorated bunk aboard USS Capelin (SS-289) at Naval Submarine Base New London in Connecticut, August 1943.
#29: A Message for Hitler, Groton, CT – 1943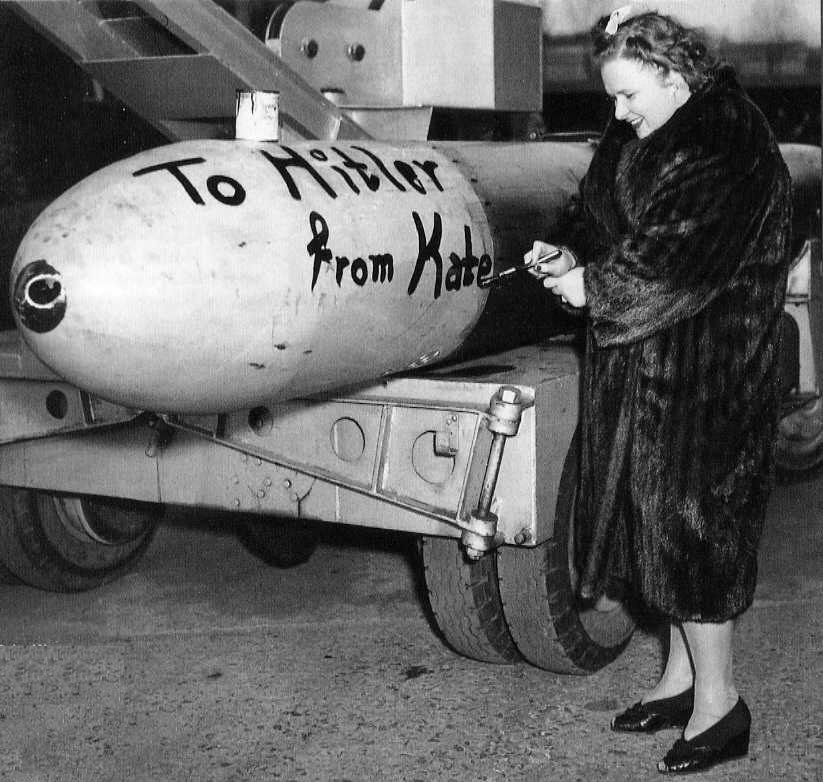 Singer Kate Smith paints the message 'To Hitler from Kate' on the side of a torpedo at US Naval Submarine Base New London.
#30: Circus Fire in Hartford, CT – 1944
On July 6, 1944, Ringling Brothers and Barnum & Bailey Circus staged a performance under the big top in Hartford, Connecticut. The tent could hold up to 9,000 spectators – 7,000 were in attendance at this performance.
The tent had been waterproofed with a solution of paraffin wax dissolved in gasoline. When a small fire broke out in the southwest corner of the tent (for reasons that have never been conclusively determined), it spread quickly due to the flammable mixture.
As the heat rose, the paraffin melted and dripped down onto the crowd while it attempted to flee. Several of the tent's exits were blocked by chutes used to bring big cats into the tent, and only eight minutes after the fire started, the flaming tent collapsed on all those remaining inside.
A precise count of casualties could not be accurately determined due to the effects of the fire on the bodies of those who were killed. At least 167 people died, and more than 700 others were seriously injured. It is one of the worst fires in American history.

#31: Bradley Field, Windsor Locks, CT – 1945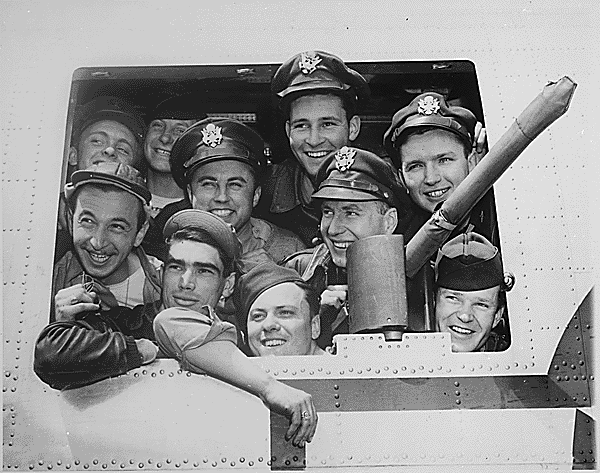 These Yankee airmen beam broadly as they look out from their bomber following their arrival at Bradley Field in Windsor Locks, Connecticut on May 22, 1945. They were the crew of a bomber called "Hell Hen," which helped to bomb Germany out of the war. They were returning home from Europe.
#32: George Bush & Babe Ruth at Yale Field  – 1948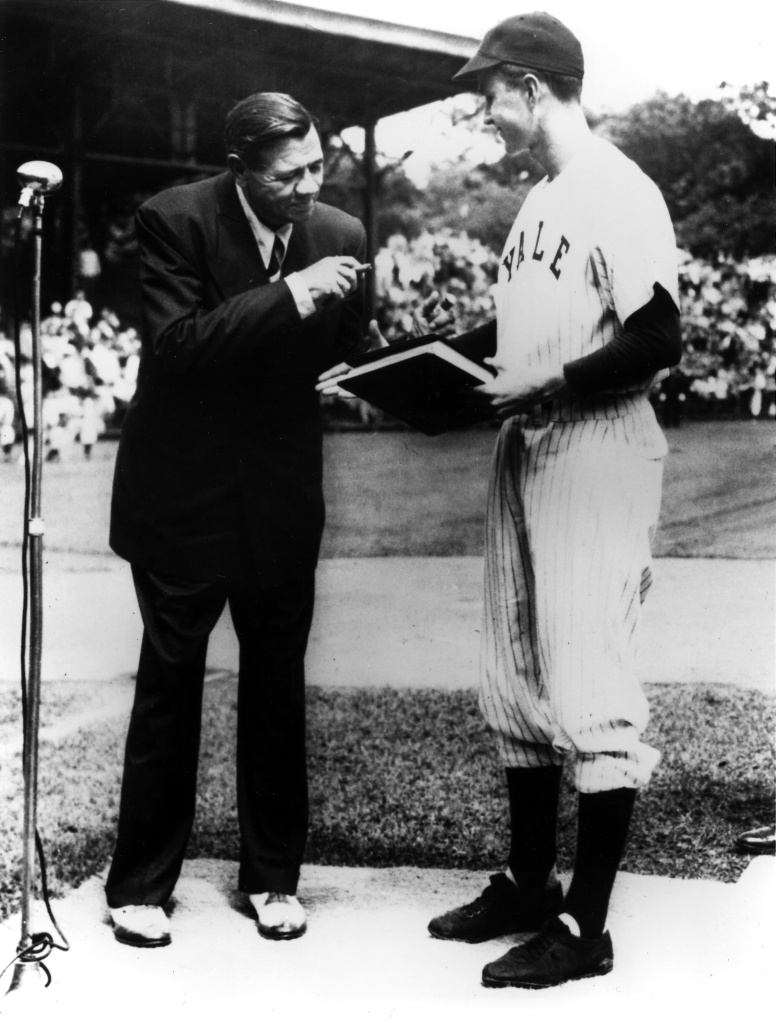 In 1948, a cancer-stricken Babe Ruth donated an original manuscript of his autobiography to Yale. He presented the gift in an on-field ceremony at Yale Field, where he was greeted by the  baseball team captain, a young George H.W. Bush.
Bush would later call the meeting "tragic".
"I was the captain of the ball club, so I got to receive him there. He was dying. He was hoarse and could hardly talk. He kind of croaked when they set up the mike by the pitcher's mound. It was tragic. He was hollow. His whole great shape was gaunt and hollowed out."
According to Yale's alumni magazine, Ruth was healthy enough to call Yale Field "the finest playing surface he had ever seen." Bush recalled, "He (Babe Ruth) complimented the Yale ball field, it was like a putting green, it was so beautiful."
#33: High School Seniors, Ansonia, CT – 1949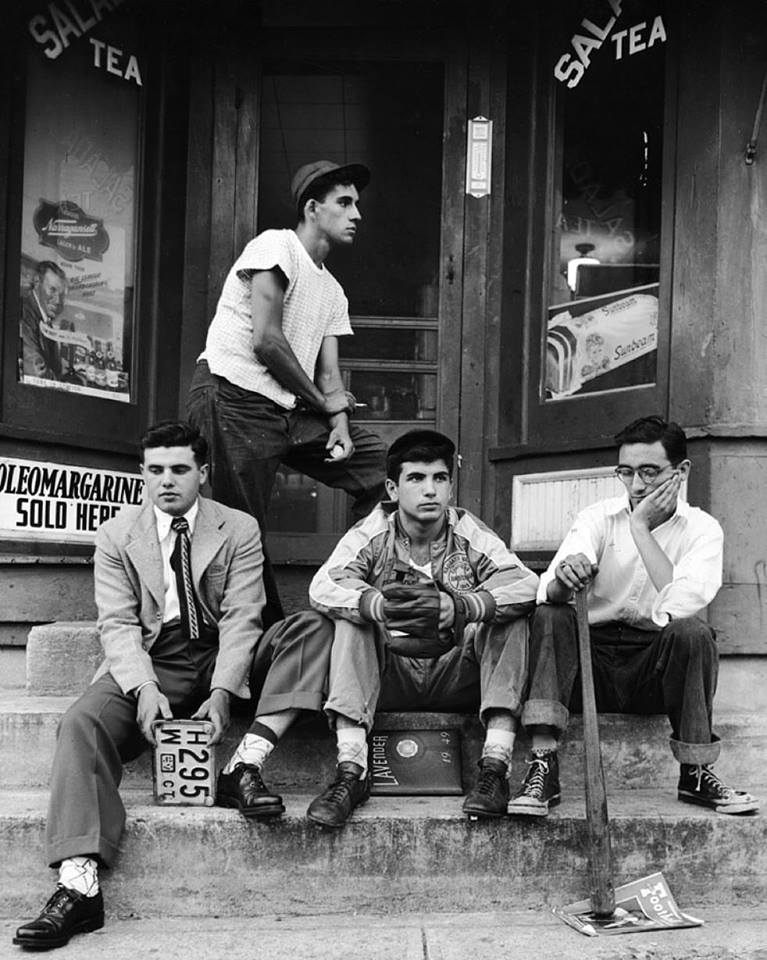 Seniors from Ansonia High School's class of 1949 pose for a photograph in front of a convenience store. The yearbook, "The Lavender", can be viewed here.

#34: Fashion Show on Train, New Haven, CT – 1949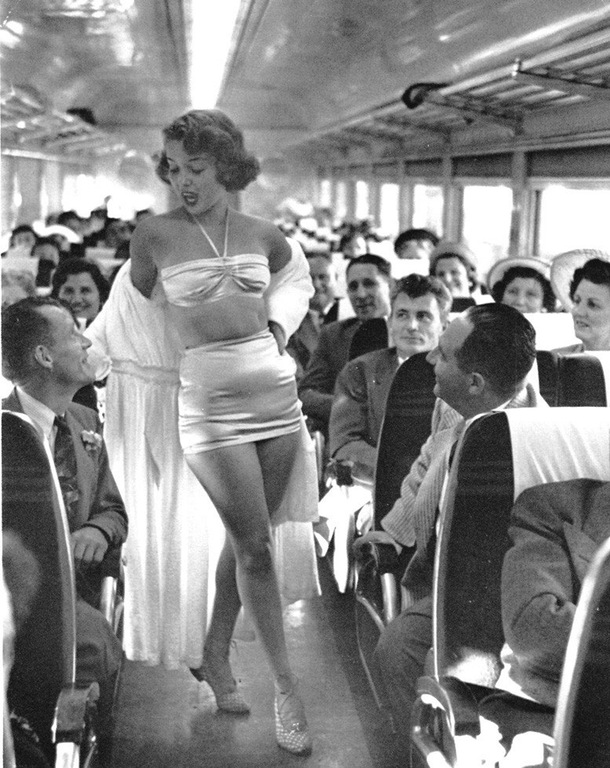 A fashion show on board the New Haven regional rail. The trains in Connecticut would definitely be much more popular today if these fashion shows still took place.
#35: Easter Sunday in Bloomfield, CT – 1951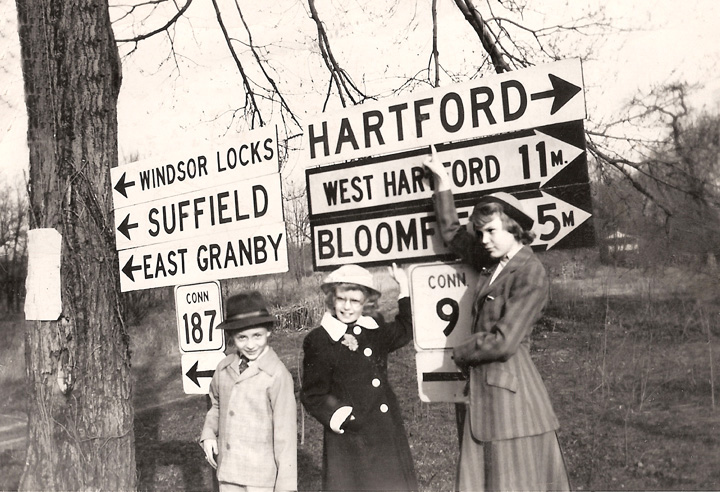 A family on Easter Sunday in the Bloomfield/Windsor, Connecticut area. This photo was submitted to Shorpy by Inqueman, and shows him with with his two sisters on their way to Easter dinner.
#36: Yale Football Tailgate, New Haven, CT – 1954
Tailgating for the Yale vs. Colgate football game at the Yale Bowl.

#37: UConn Baseball Pitcher, Storrs, CT – 1955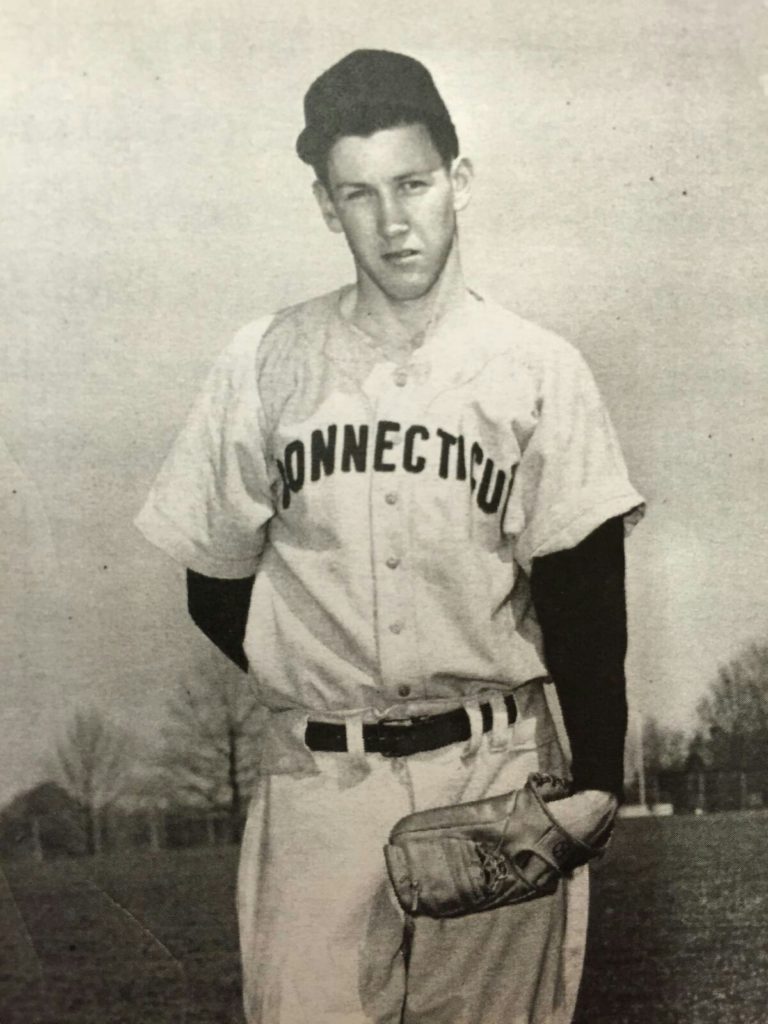 Don "Tink" Kilbreth, a pitcher for the University of Connecticut in 1955. Kilbreth was a dominant pitcher-infielder for the semipro Turner Townies and the University of Connecticut. He later played several years in the Hartford City League. He was inducted into the Maine Baseball Hall of Fame in 2015.  (Source)
#38: Back to the Future in Stamford, CT – 1958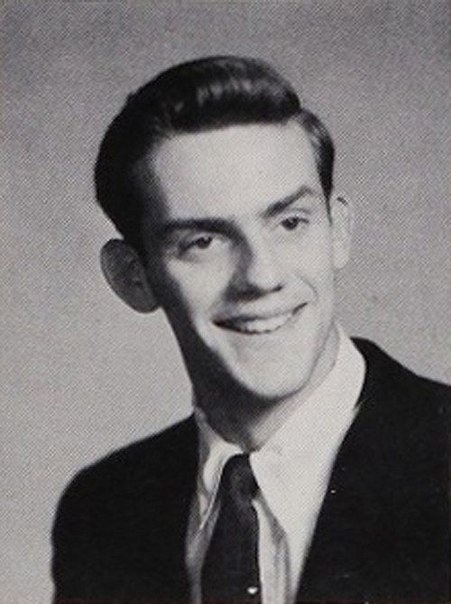 Christopher Lloyd, of Back to the Future fame, as a senior at Stamford High School.
#39: Selling Acid in Middlefield, CT – 1970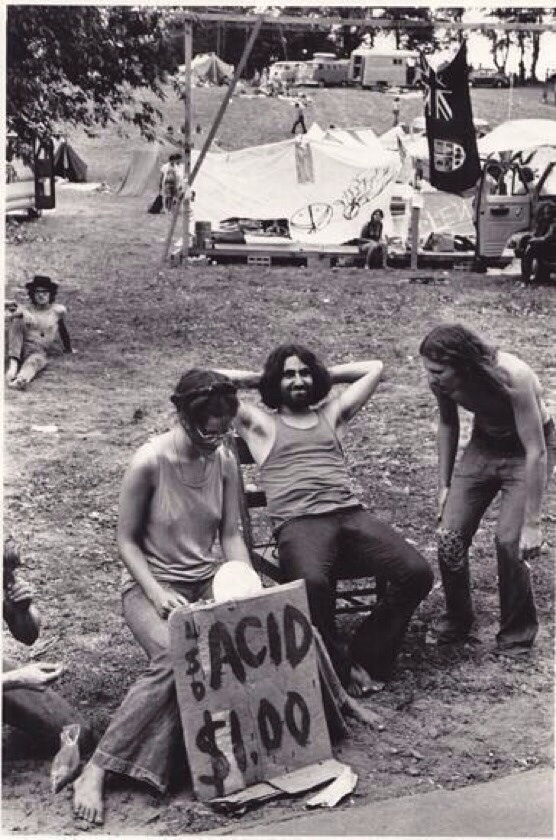 Selling acid for $1 ($6 in 2017 dollars) at the Powder Ridge Rock Festival in Middlefield, Connecticut. The Powder festival was scheduled to be held from July 31 – August 2, 1970 at Powder Ridge Ski Area in Middlefield, Connecticut.
A legal injunction forced the event to be canceled, keeping the musicians away, but a crowd of 30,000 attendees arrived anyway.
They arrived to find no food, no entertainment, no adequate plumbing, and at least seventy drug dealers. Volunteer doctor William Abruzzi declared a drug "crisis" on August 1st and said "Woodstock was a pale pot scene. This is a heavy hallucinogens scene."
The lineup was supposed to include bands such as Sly and the Family Stone, Fleetwood Mac, James Taylor, Joe Cocker, Allman Brothers, Little Richard, Van Morrison, Jethro Tull, Janis Joplin, Chuck Berry, and Mountain.

#40: Asphalt Covered Cars in Hamden, CT – 1977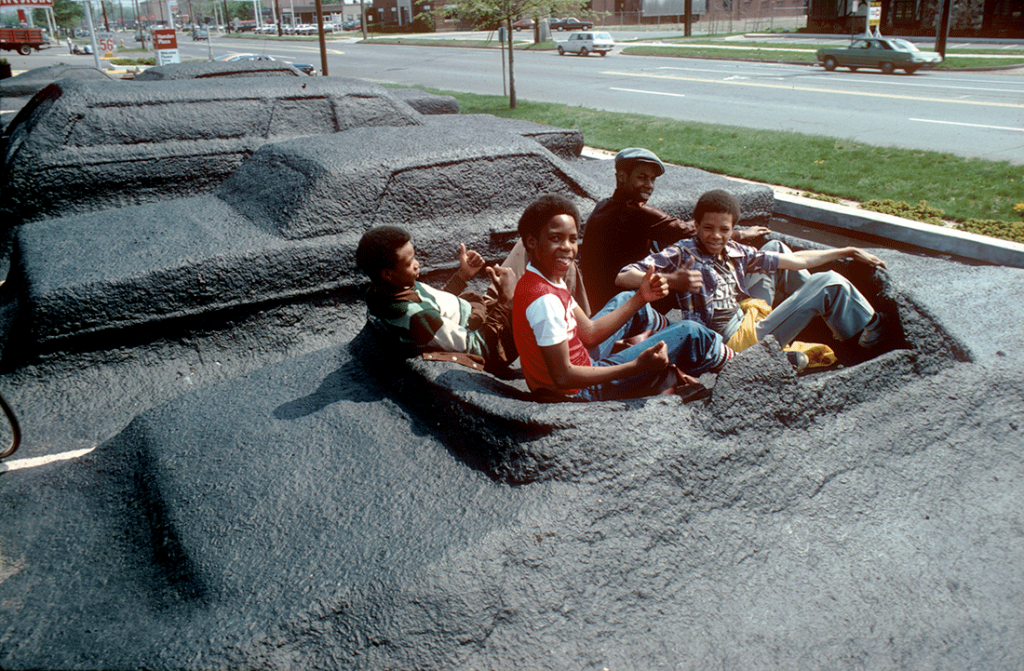 In 1978, an artist covered two dozen cars from with pavement in a strip mall parking lot in Hamden, CT. The ghost cars remained for 25 years, until 2003 when the art installation was destroyed and removed.
If you are a small business owner in Connecticut looking for someone to build your website or help you with social media marketing, please email support@knowol.com – We can help!
Please share this with friends using the buttons below!