This series of photographs shows what Lake Compounce looked like in 1942. Photographer Charles Fenno Jacobs worked under commission of the United States Office of War Information to take photographs of small American towns during World War II, and his trip to Connecticut included a stop at Lake Compounce Amusement Park.
Lake Compounce opened in 1846 and is America's first and oldest operating amusement park. In 1895 a casino was built on the property, featuring a restaurant and a large ballroom. The lake was host to many different functions throughout the years, and now holds the honor of being America's oldest continuously operated amusement park. The following photographs were taken in 1942, and show Lake Compounce in its early glory.
1. Yearning for the Wildcat
Two women looking over a fence at the Wildcat roller coaster. The Wildcat is one of the world's oldest operating roller coasters. It has been in operation at the same location since 1927. The area where the ladies are standing is now home to another roller coaster, The Zoomerang, and a children's ride area.
2. Walking Towards Lake Compounce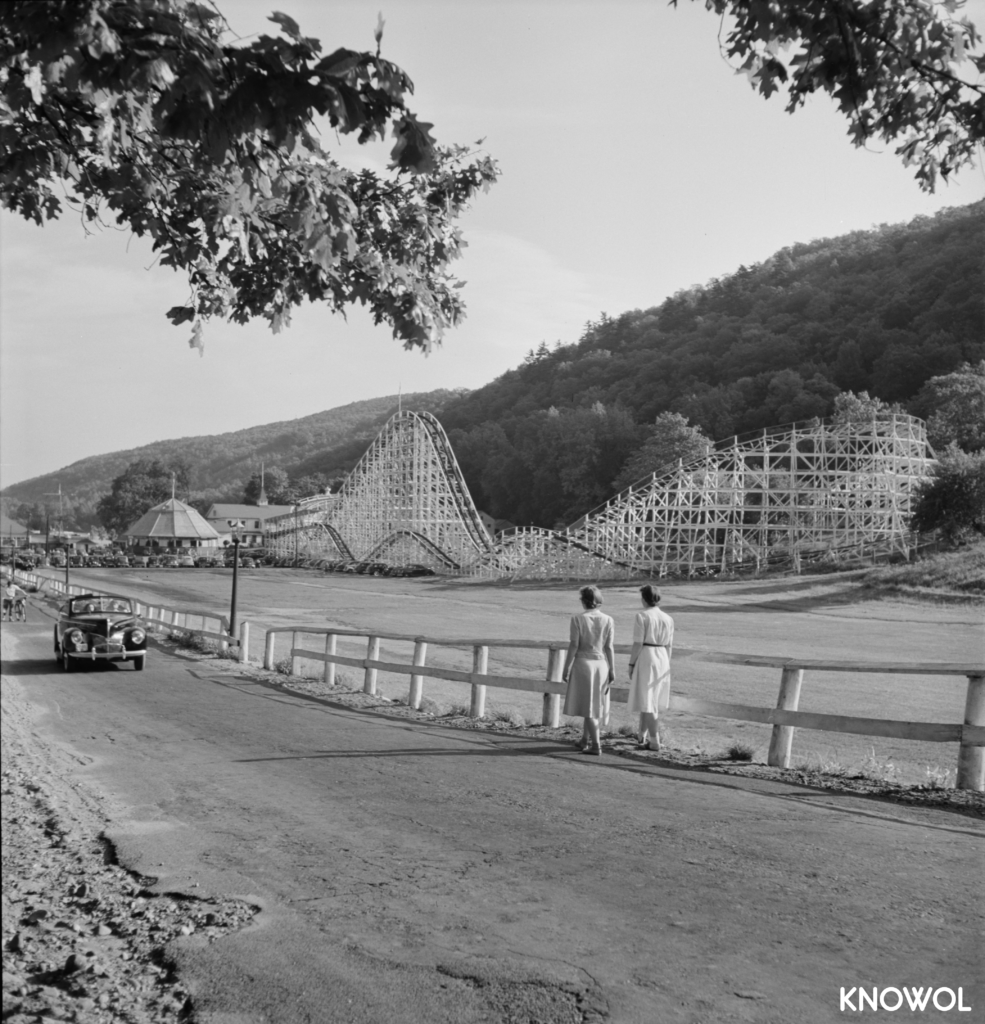 The same women from the previous picture walking down the road towards the park entrance. The land where they are walking is now part of the inside of the park.
3. Lake Compounce's "Wildcat"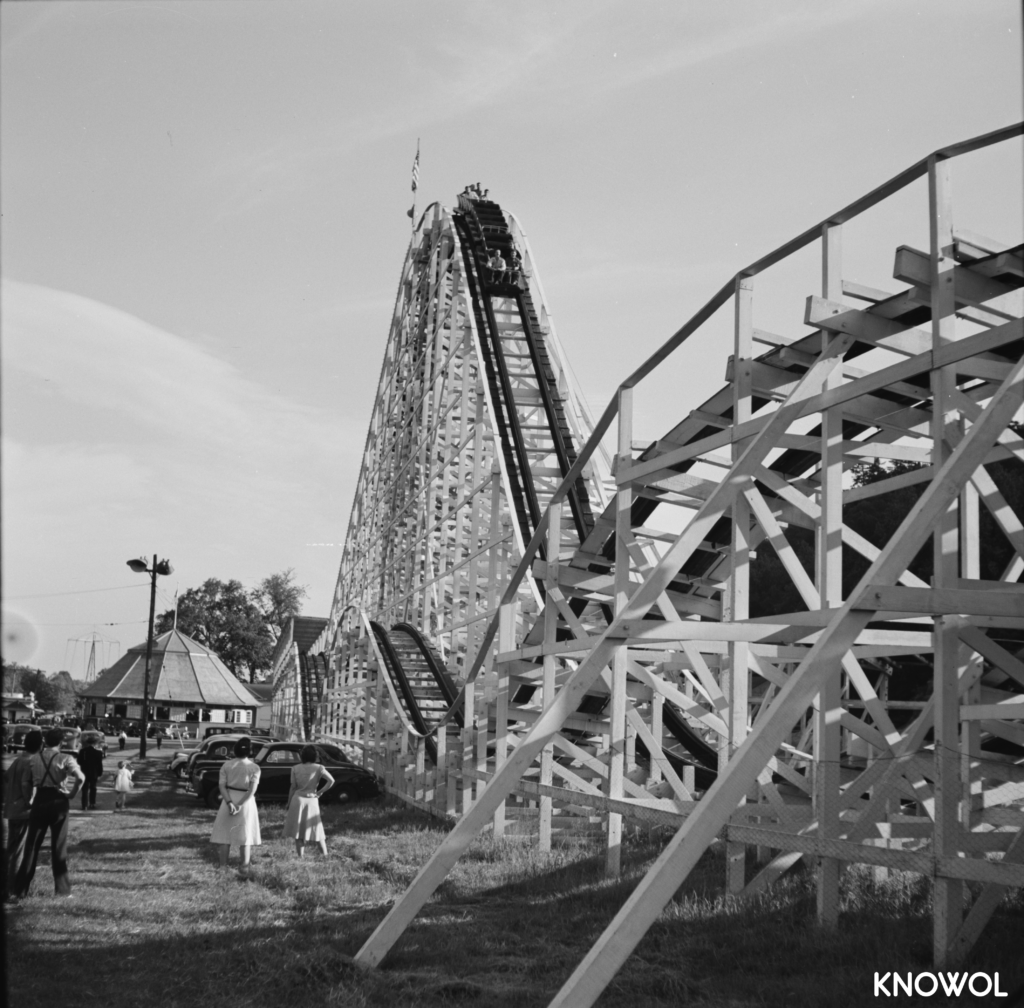 A close-up view of the Wildcat rollercoaster. One thing is for sure – they don't let you get that close anymore. You can literally see cars parked right up against the rollercoaster supports. Before the Wildcat was built, the Green Dragon Coaster used to stand in its place.




4. Old Time Baseball Throw Game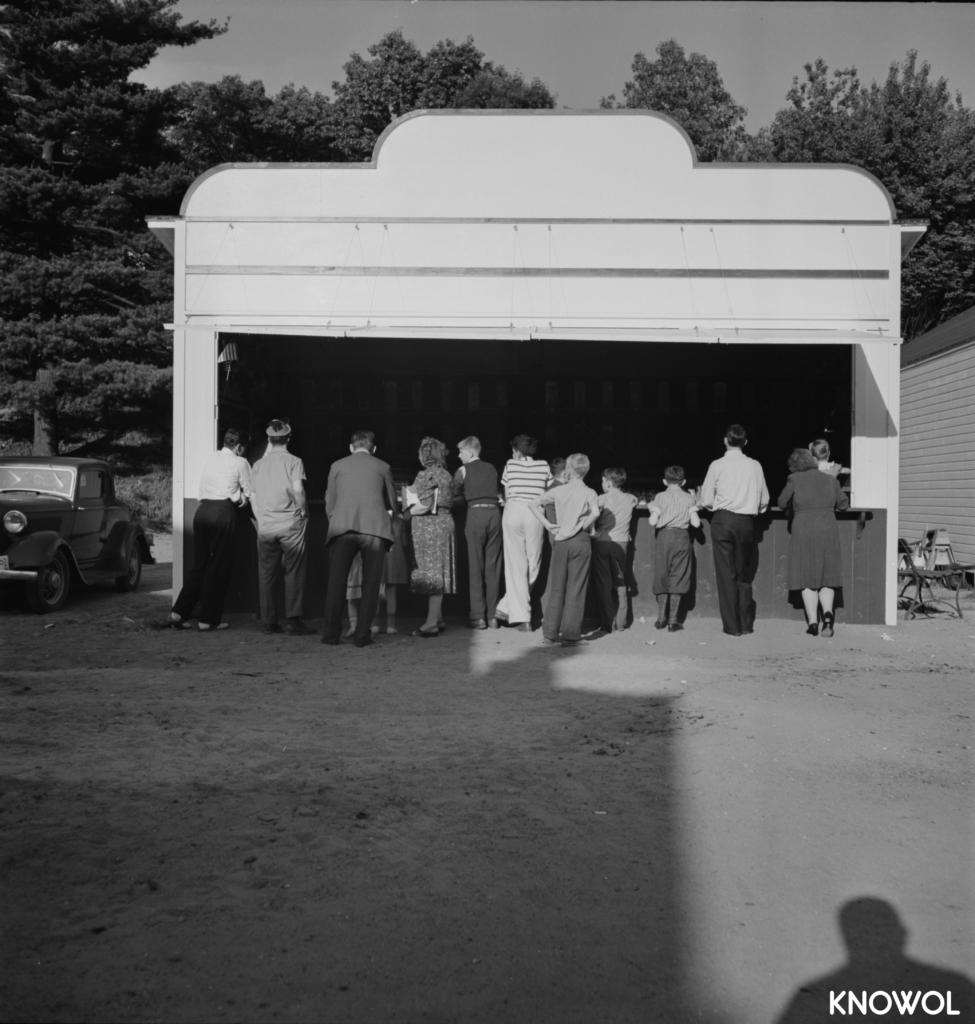 As opposed to the wide variety of  games available at Lake Compounce today, this picture shows a standard "baseball throw" game. If you zoom in on the picture you can the targets the guests would try to knock over with a baseball.
5. "Laff in the Dark"
Laff in the Dark was introduced in 1938 and took guests through a building featuring monsters, ghouls and goblins. At the time of this picture the attraction was only four years old. Laff in the Dark was an early "dark ride". Guests would sit in a two person cart and go through the building on a track, encountering fun and scary scenes along the way. Surely a popular place for couples to spend some quality time together.
6. Bumper Cars… in Suits!
Bumper cars are popular today, and they seemed to be even more popular in the 1920's. The one main difference? No one wears a suit on the bumper cars today. Lake Compounce's bumper cars ride was named, "Skooter".




7. More Bumper Cars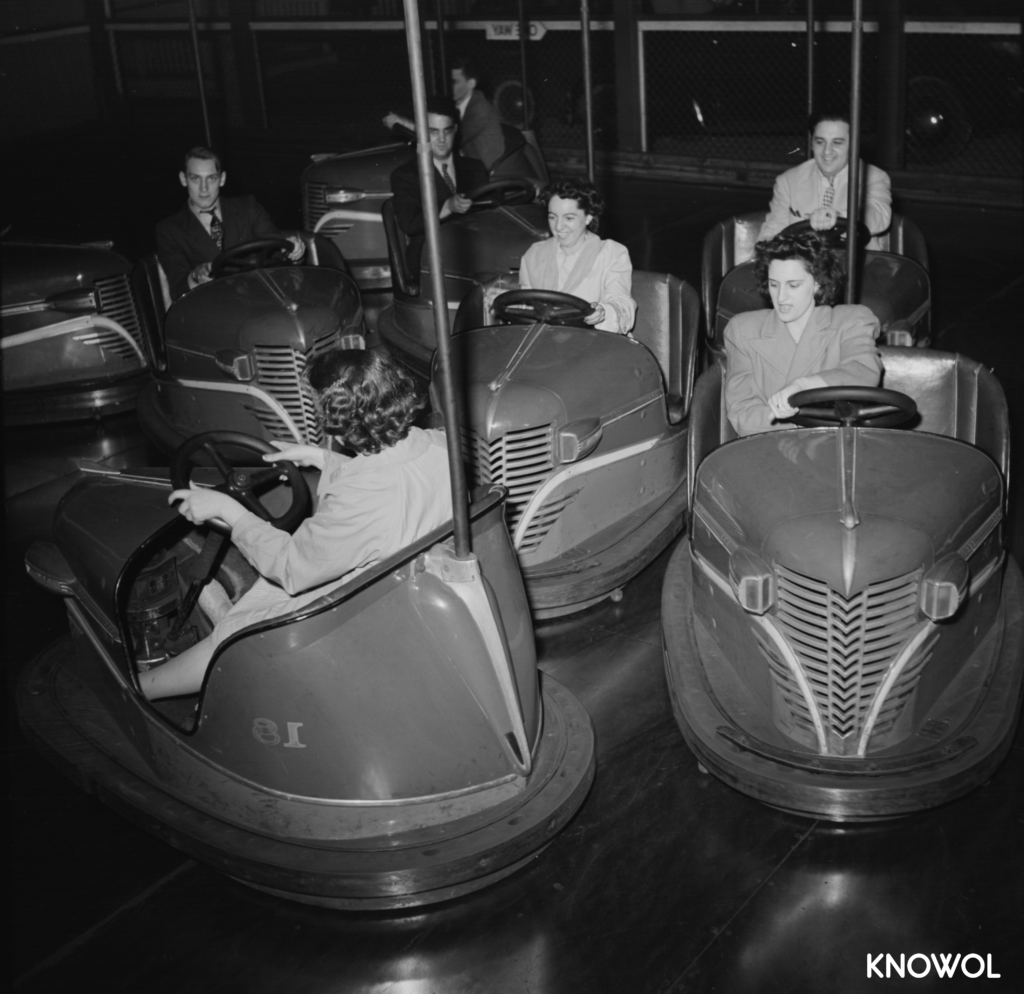 More bumper car fun at Lake Compounce. Even the women wore suits!
8. One Last View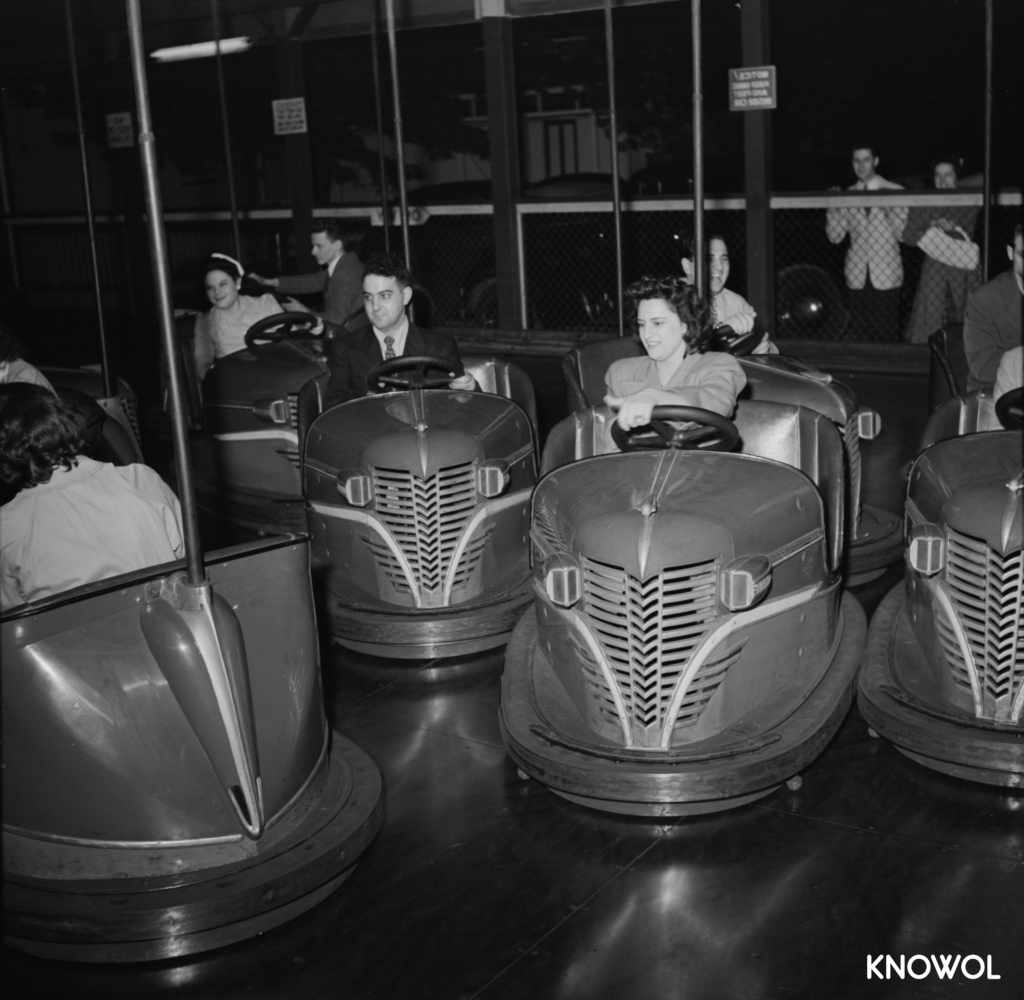 Spectators watching riders enjoy the bumper cars.
9. Lake Compounce's Dance Hall
Did you know Lake Compounce once had a casino? The casino building (now known as the pavilion) was added in 1895, and featured a ballroom upstairs and a dining room below. This picture shows the original ballroom at Lake Compounce. The ballroom would have live performers, and after enjoying the rides guests would come here to dance the night away.




10. Dancing at Lake Compounce
In its earliest years, Lake Compounce was more of a recreation area. Some of these people probably came here strictly for the night entertainment, dancing and live music. If anyone wore these clothes to Lake Compounce today, they surely would get some weird looks.
11. Is that Richie Valens?
No it's not, but it sure does look like him. It's sad to think that this man's hair is no longer as awesome as it once was.
12. Lake Compounce's Ballroom
The ballroom still stands today, but has been converted into a restaurant.




13. See that crowd?
Lake Compounce was once essentially a nightclub. This picture shows how packed the dance floor is. It's sad to think Connecticut's entertainment game was stronger in the 1940's than it is today. Live music, a theme park, and dancing all in one place? Sign me up.
14. The Loner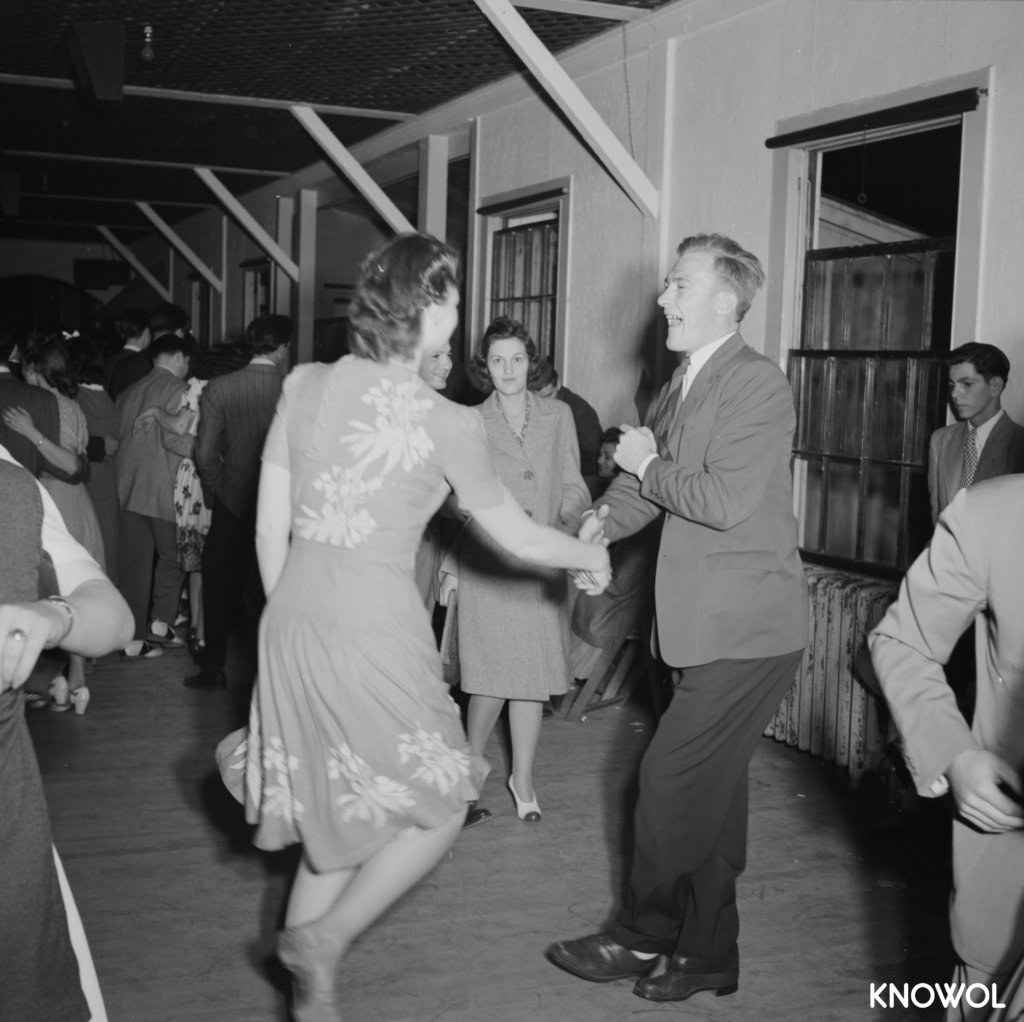 If you look closely at the right side of the picture, you can see what looks to be a disinterested young man standing against the wall while watching everyone else dance. Deep inside, he is clearly yearning to join the fun. Nowadays, that is basically what all young men do. This guy was clearly ahead of his time.
15. Laff in the Dark at Night
Laff in the Dark at night. If you zoom in on this picture you can see the ticket taker smoking a cigarette, a man entering one of the carts to go enjoy the ride, and groups of couples standing in line to wait their turn. This ride surely had to be a popular place to bring your date for a little "necking" after tiring yourself out on the dance floor.
If you're interested in learning more about Lake Compounce's history, there is a wonderful book on the subject titled "Lake Compounce (Images of Modern America)", by Lynda J. Russell. The book features even more pictures of Lake Compounce", and provides insights and information not available elsewhere.
Please share this with friends using the buttons below!