This old map of Middlesex County, CT was commissioned in 1934 by the Connecticut League of Women Voters. S. Jerome Hoxie illustrated the map and it was printed by The Riverside Press in Mystic Connecticut. The Leauge of Women Voters was established in 1920 to help women take a larger role in public affairs as they won the right to vote. This map was used to advertise the league within Connecticut.
The map shows Cromwell, Middletown, Middlefield, Portland, East Hampton, Durham, Haddam, East Haddam, Killingworth, Chester, Saybrook, Essex, Clinton, Westbrook, and Old Saybrook. The cities are outlined and within each are drawings and historical facts and stories about the area.
The map has been faithfully restored to its original condition by KNOWOL. Museum quality prints of the map are available using the buy it now button at the bottom of the page.
Click here to see the full map.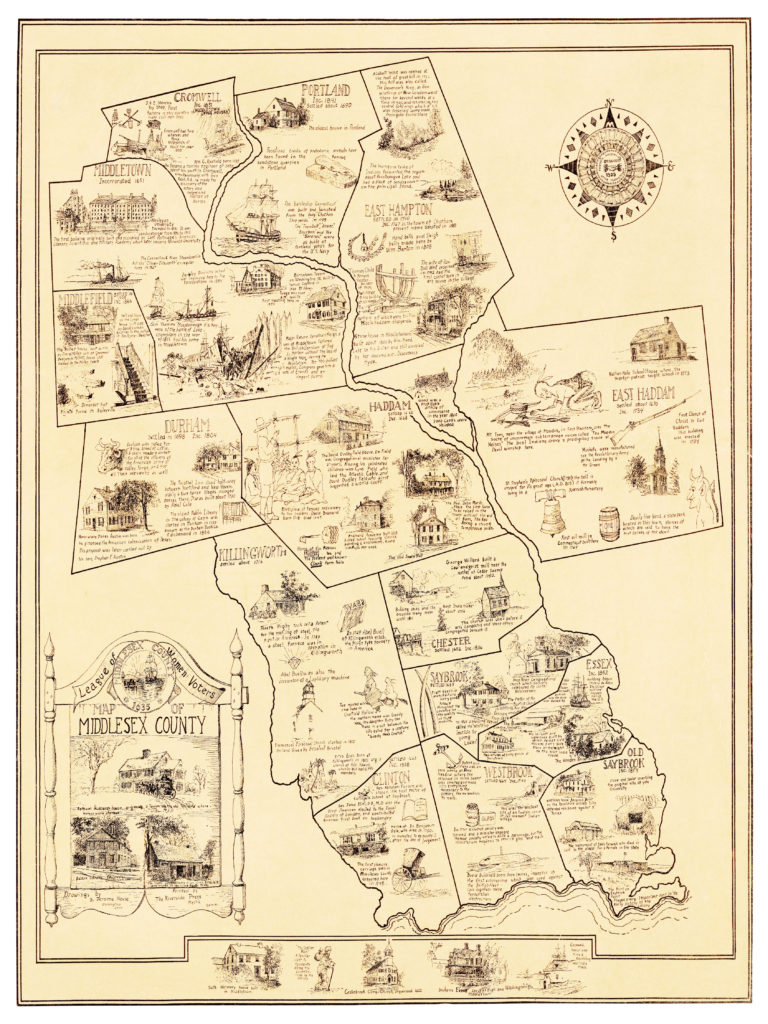 This old map of Middlesex Connecticut provides hours of entertainment and you learn a lot about the state in the process. This combination of a picture book and wall map makes an attractive addition to your office, library, or den, and can even be used to help teach children the geography and history of their town. Click "buy now" to get your copy.
Our museum quality prints ship within 5 business days. More than half of our orders ship within 3 business days or less. We guarantee high quality prints. Have a question? Contact us!