Candlewood Lake is a manmade lake located in Connecticut that is is bordered by five towns: Brookfield, Danbury, New Fairfield, New Milford, and Sherman. The following images show Candlewood Lake as it looked in the 1940's and 1950's.
Bathing beaches at Candlewood Lake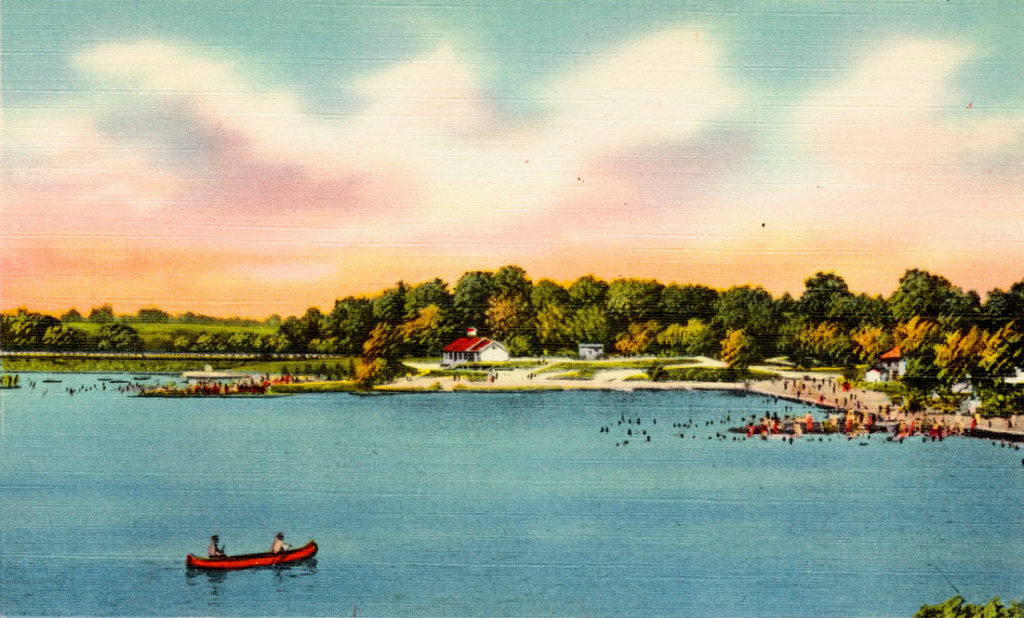 In July 1926, 1,400 men began clearing 4,500 acres of woods on the land which is now Candlewood Lake. The Housatonic river was used to flood the valley beginning on February 25, 1928, and was finished on September 29, 1928, when it reached an elevation of 429 feet above sea level.
Boating on Candlewood Lake, CT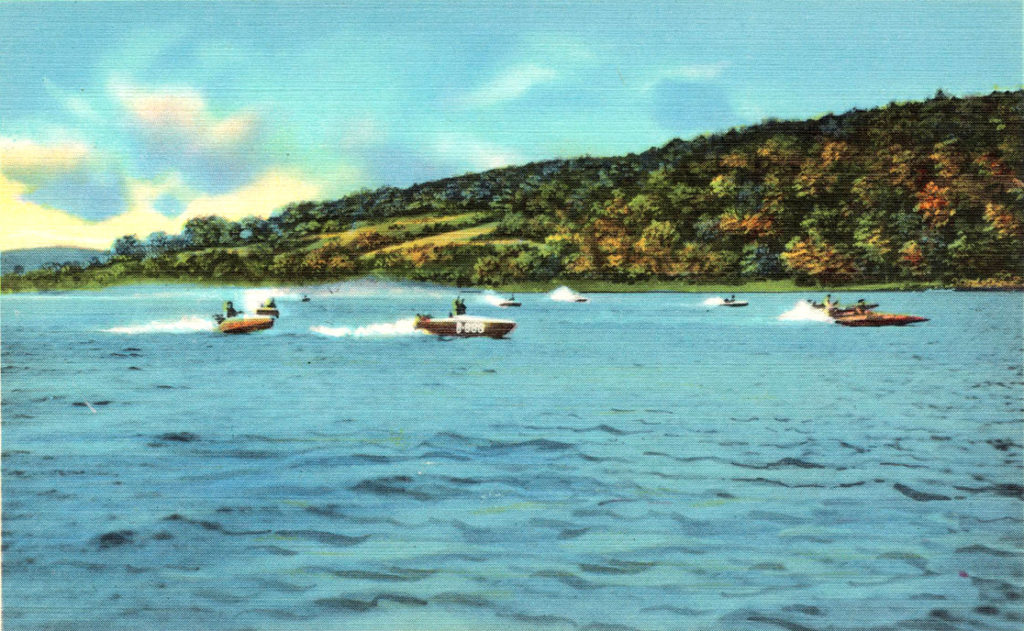 Candlewood Lake powers a hydroelectric dam using water from the Housatonic River. The lake works like a large battery, storing water during periods of low electrical demand and letting water flow downhill to create hydroelectric power when demand is high. When the hydroelectric plant went into operation in 1928, it was the only plant of its kind outside of Switzerland.
Bathing Beach, Wildman's Landing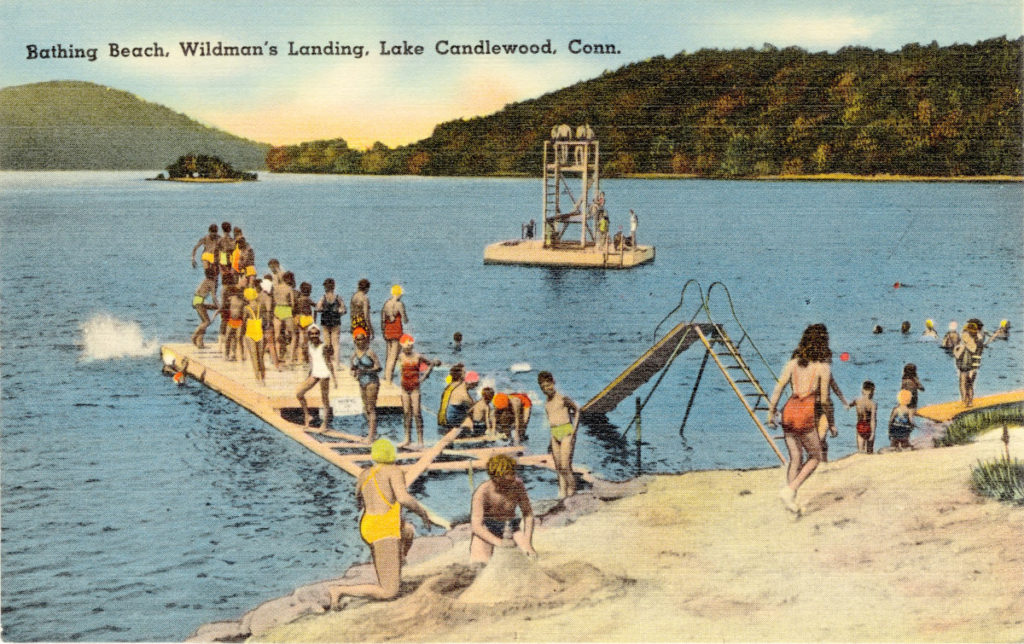 Candlewood Lake immediately became a popular tourist destination, and today is Connecticut's most popular recreational lake, with droves of tourists visiting during the summer months to swim, fish, boat, and golf.
Bathing Beach at Candlewood Lake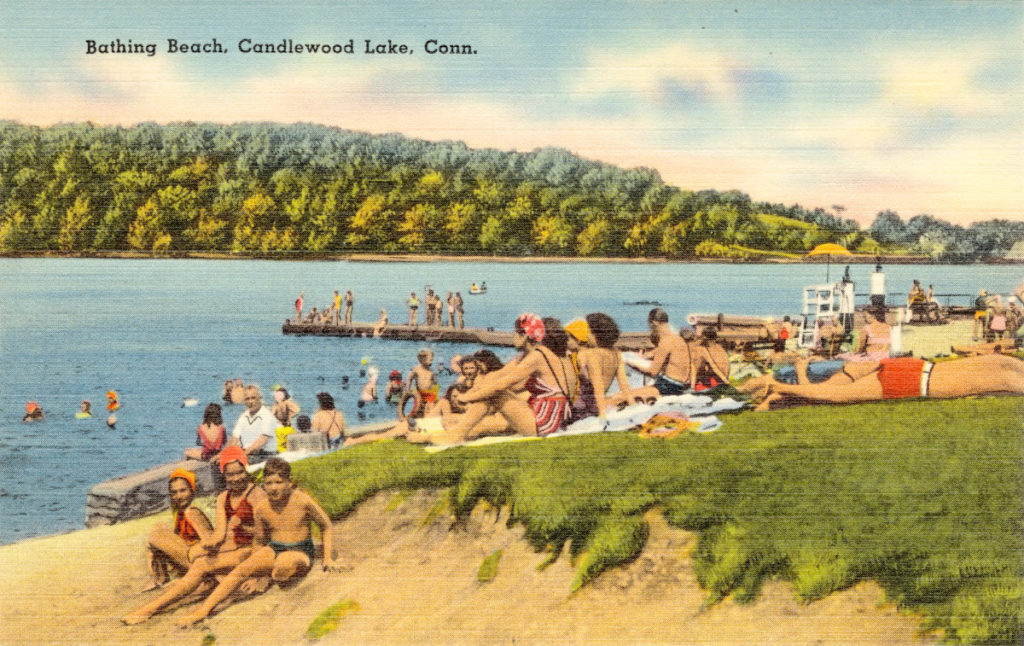 Candlewood Lake has approximately 60 miles of shoreline lined with resorts, golf courses, beaches, and marinas.
View of Candlewood Lake from Aqua Vista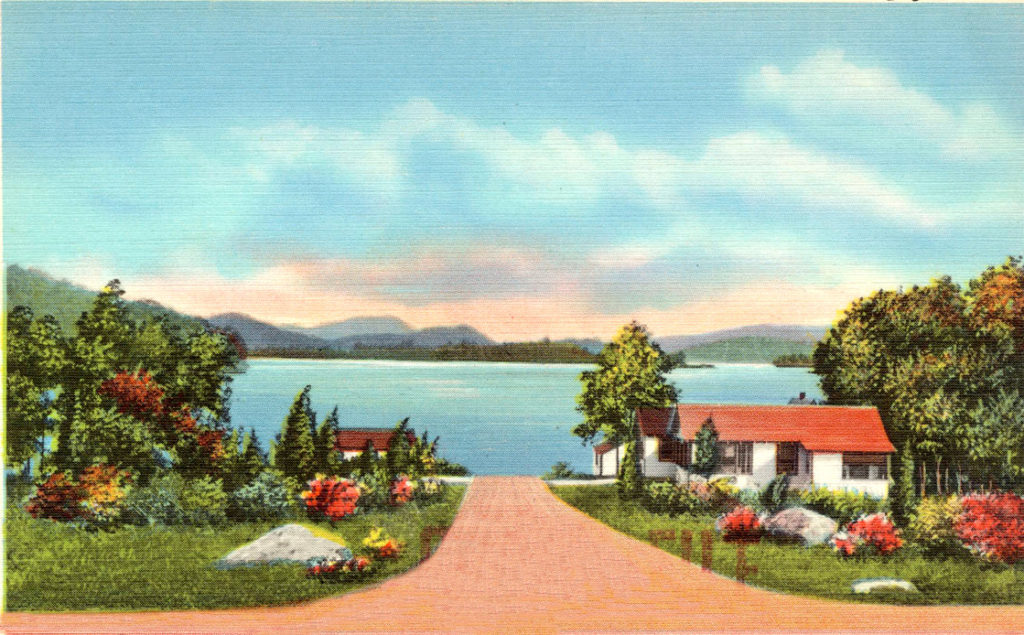 Although it was almost called Lake Danbury, the new body of water ultimately got its name from New Milford's Candlewood Mountain – which was named after the Candlewood tree, whose branches were sometimes used as candles by early settlers.
 Candlewood Lake, Island in the distance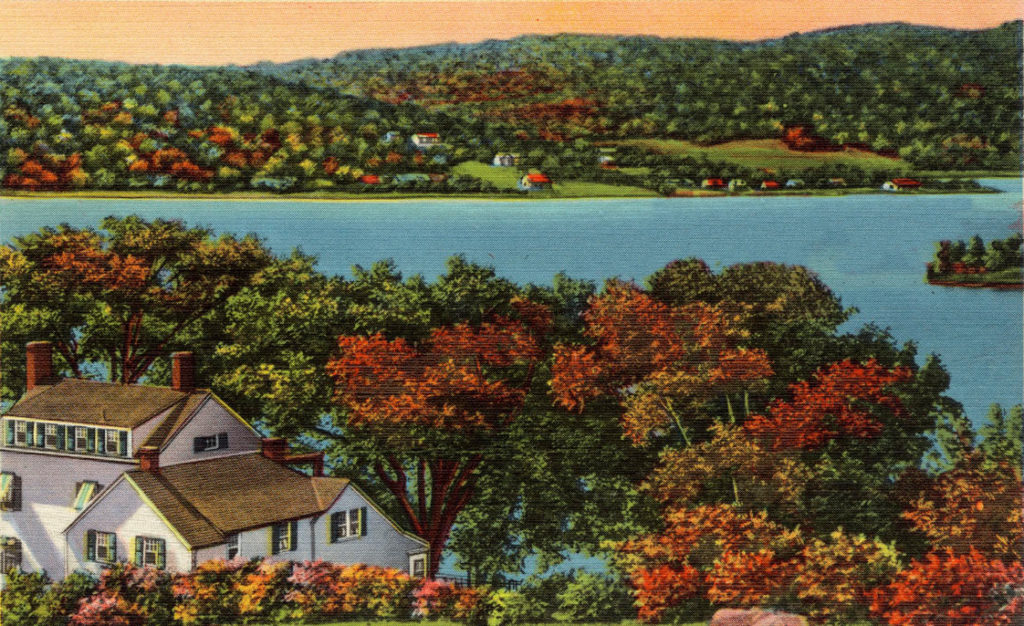 Because the lake is within the border of five towns, the lake's name was adopted to avoid naming the lake after any one of the adjoining towns.
Candlewood Lake Scenery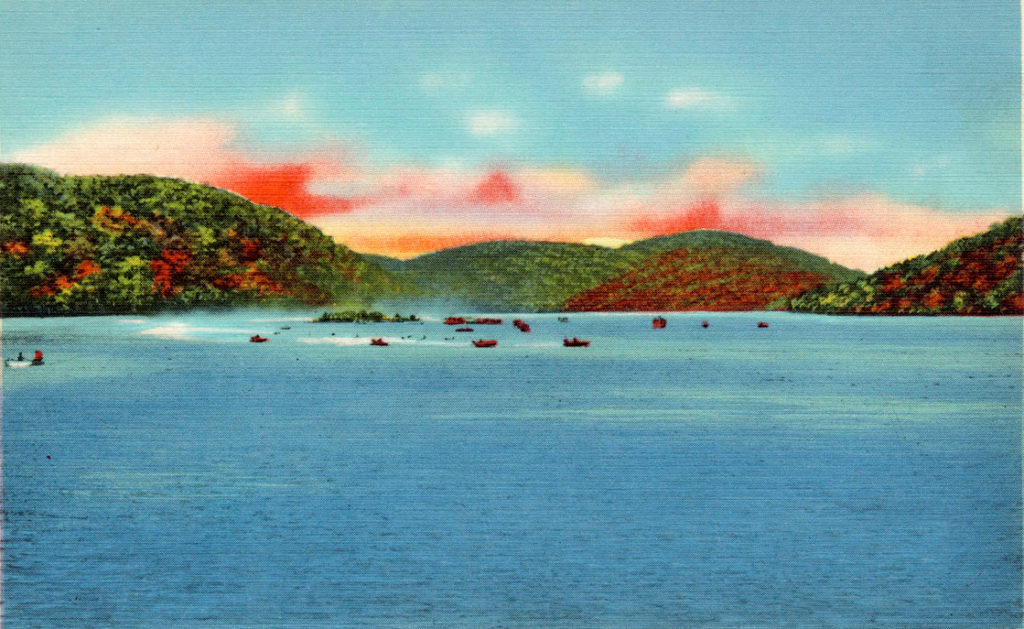 Candlewood Mountain was named by the early settlers in the region who learned from the Indians how to make Indian candles by splitting dry pine logs into narrow 8-inch strips which burned like torches and were used in place of wax candles. These strips were known as candle wood, and the logs used to make the strips were plentiful on the mountain that now surrounds the lake.
Candlewood Lake Cabin, CT
Candlewood Lake is around 40 feet deep in most places, with some deeper areas that are 80 feet. Scuba divers can explore a submerged village named Jerusalem which existed before the lake was created, including underwater roads, a Model T, and the wreckage of a small plane that later crashed into the lake.
Candlewood Lake Views, CT
Sixty-one miles of shoreline with numerous coves and islands form what is now known as Candlewood Lake. Once established, the Rocky River power project became a roaring success. Not only did it expand the hydroelectric power capacity in the Housatonic region, but Candlewood Lake also provided an economic stimulus for the surrounding communities.
View of Candlewood Lake from Knolls
The lake was stocked with fish and the surrounding land was made available for recreational use, with town parks and beaches being developed by each of the five communities. Attractions for public use are the Sqantz Pond State Park and Poctatuck State Forest, which front on the lake in New Fairfield.
View of Candlewood Lake showing the Island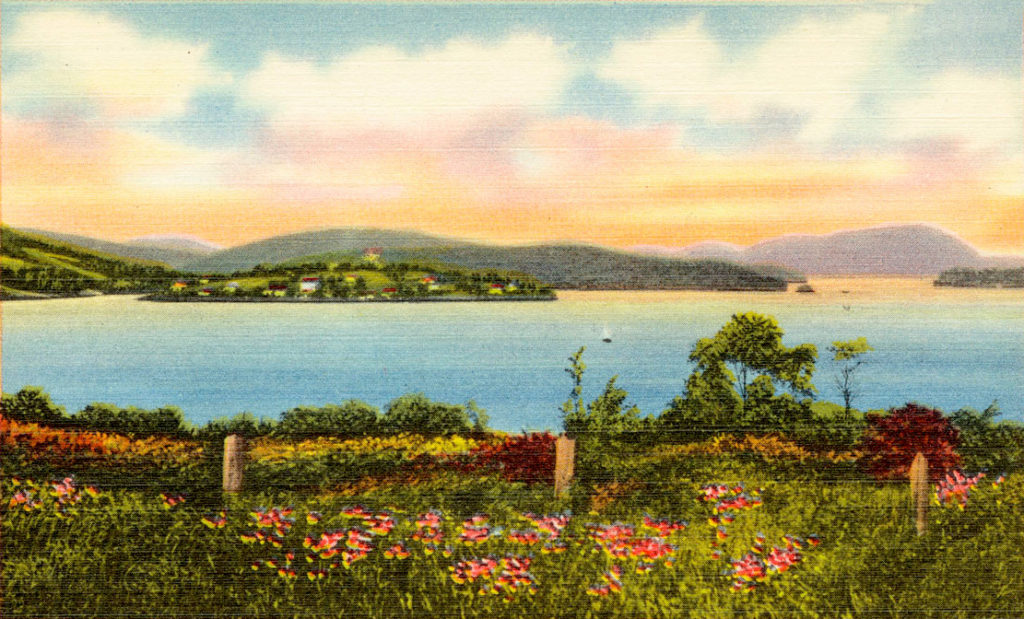 During the 1950's and 1960's land values soared as resorts and summer homes were built around Candlewood Lake. In the lake's early years, the majority of the population in the surrounding area was seasonal inhabitants. It is estimated by the 1950's more than 10,000 people swelled the local population in the summer, providing a considerable economic boost to the towns.
Today, Candlewood Lake and the surrounding area remains one of the most popular recreational areas in Connecticut. If you would like to own a piece of Candlewood Lake there are Candlewood Lake postcards on Amazon and Candlewood Lake tote bags on TeeSpring.