This historical map of Connecticut was published in 1937 by the Historical Map Bureau of Willington, Connecticut. The map is titled "Historical Map of the State of Connecticut" and features beautifully illustrated scenes of Connecticut including stories and legends from across the state.
This vintage map of Connecticut was lovingly restored by the team at KNOWOL. Reproductions are available through our store. A high resolution version can be viewed below.
The map features Connecticut trivia such as:
In 1643 Southold, Long Island was part of Connecticut. It united with Milford, Guilford, Stamford, and Branford to form what was known as the New Haven Colony.
On February 25, 1779 – 1,200 English soldiers led by Governor Tryon marched against Greenwich, which was defended by General Israel Putnam and 100 militia. Putnam and his troops were forced to retreat.
Stamford was settled in 1641 after being purchased from the Indians for 12 coats, 12 hoes, 12 hatchets, 12 knives, 2 kettels, and 4 fathoms of wampum.
Historical map of Connecticut from 1937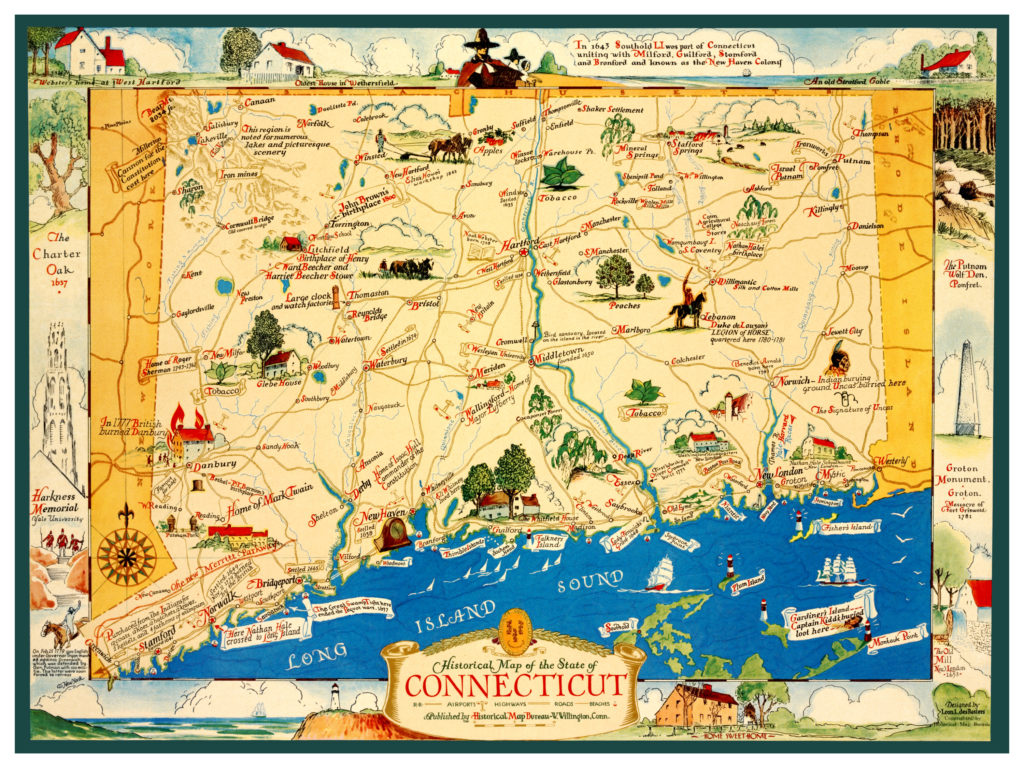 This vintage map will make an attractive addition to your home or office, and can even be used to teach children the geography and history of Connecticut. Each reproduction is printed on museum quality, archival paper to ensure that this piece of Connecticut history can be passed on to the next generation. Click here to get your copy of the map.