Beer, one of the few things Americans agree on. Whether you're a casual beer drinker or someone who waits hours in line for barrel-aged stouts, you'll enjoy this collection of pictures showcasing America's love affair with beer.
Images from The National Archives and The Library of Congress.
#1. Franklin Roosevelt Signing the Beer Bill – 1933
March 22, 1933: "A Date Which Will Live in Beer Infamy". This is the bill that set the ball in motion to repeal prohibition. The law levied a federal tax on all alcoholic beverages and gave individual states the option to regulate the sale and distribution of beer and wine.
In December 1933, Roosevelt began the process to repeal prohibition with the 21st Amendment, winning the hearts of American beer-lovers everywhere.
#2. Oyster fisherman from Olga, LA – 1938
This oyster fisherman from Olga, Louisiana is sailing the Mississippi River aboard a ship called the El Rito. The captain of the boat gave fishermen free beer at each stop.
#3. Nightclub Beer Delivery – Raceland, LA – 1938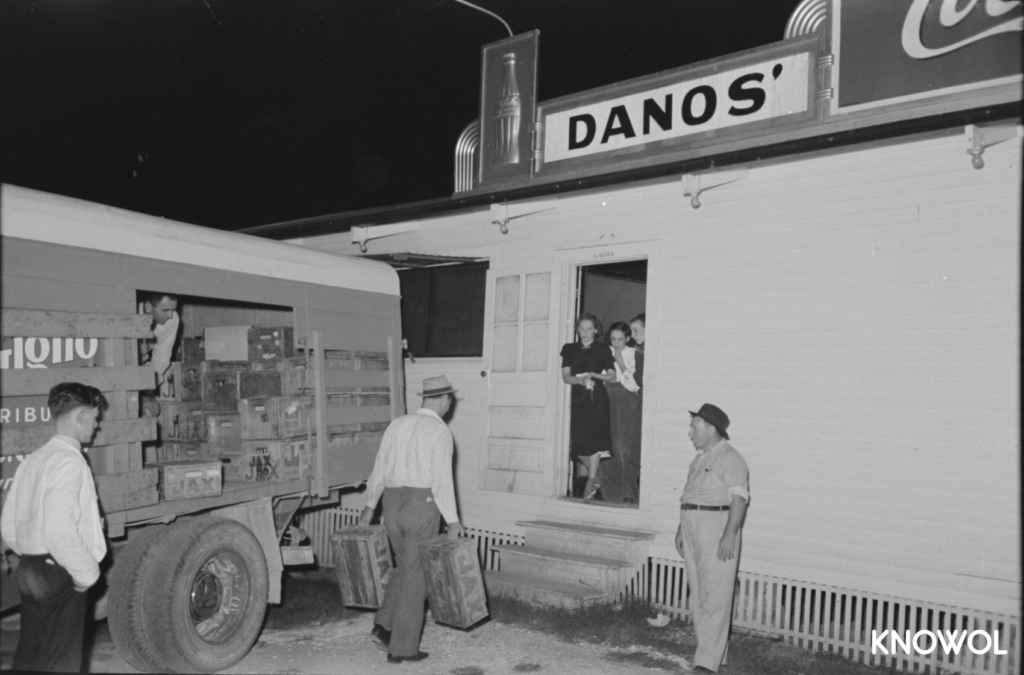 JAX beer getting delivered to a nightclub in Raceland, Louisiana. Jax Brewing Company was originally called Jacksonville Brewing Company. It was a regional brewery in Jacksonville, Florida that operated from 1913 to 1956.
#4. Keg Party in the Basement – Shenandoah, PA – 1938
Even in the 1930's men were relegated to their basements to drink beer. Nowadays we call them "man caves" so that it seems like the men had a choice, but in reality the man's stuff is in the basement because their wife wouldn't let them put it anywhere else.
The man working the keg is named Mike "Mitzi" Karachuta. He's seen here filling beer glasses for the rest of the party.
#5. Joe Gladski's Man Cave – Shenandoah, PA – 1938
Mike returning with the beers!
#6. A Cowboy's Beer – Alpine, TX – 1939
To this day, no one has looked cooler while drinking.
#7. Cowboy Beer Parlor – Alpine, TX – 1939
#8. Texas Cowboys – Alpine, TX – 1939
Quintessentially Texas.
#9. Cowboy and his Beer – Alpine, TX – May, 1939
The sign above him says "Trust You? Tomorrow, maybe!"
#10. Harmonizing in a beer parlor – Birney, MT – 1939
Three men harmonizing in the back room of a bar, surrounded by cases of Pabst Blue Ribbon. Check out the boots on the guy to the right.
#11. Pabst Beer Parlor – Birney, Montana – 1939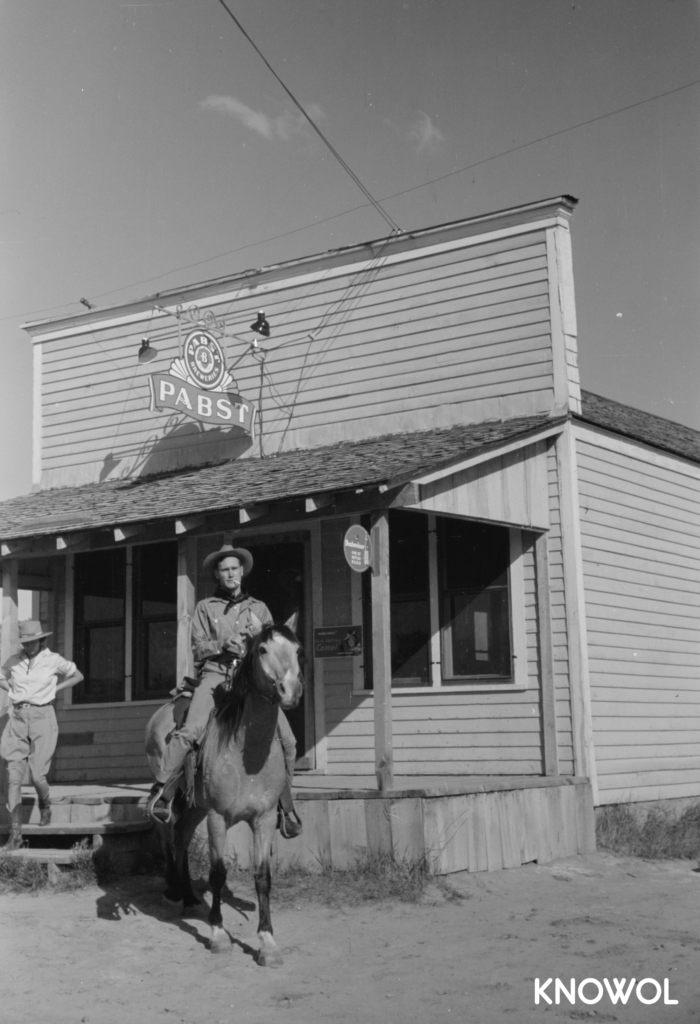 Leaving the bar on horseback. No worry of DUI's in those days.
#12. Saturday Afternoon Beers in Clarskdale, MS – 1939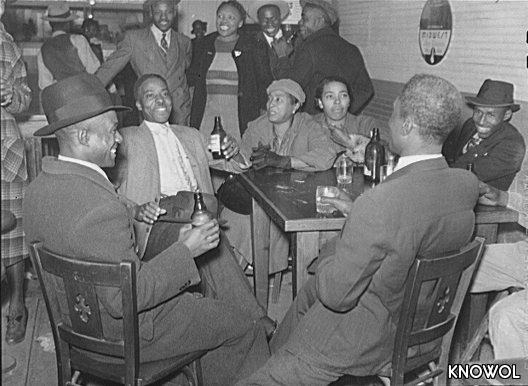 The country was still deep in the throes of segregation when this image was titled: "Saturday afternoon in a Negro beer and juke joint. Clarksdale, Mississippi Delta".
The female photographer, Marion Post Wolcott, was likely the only white person in the joint, but we're sure she enjoyed herself. This place looks way funner than the cowboy bar. The picture was taken in November, which explains why they're wearing jackets indoors.
#13. Horse Drawn Beer Wagon – Minneapolis, MN – 1939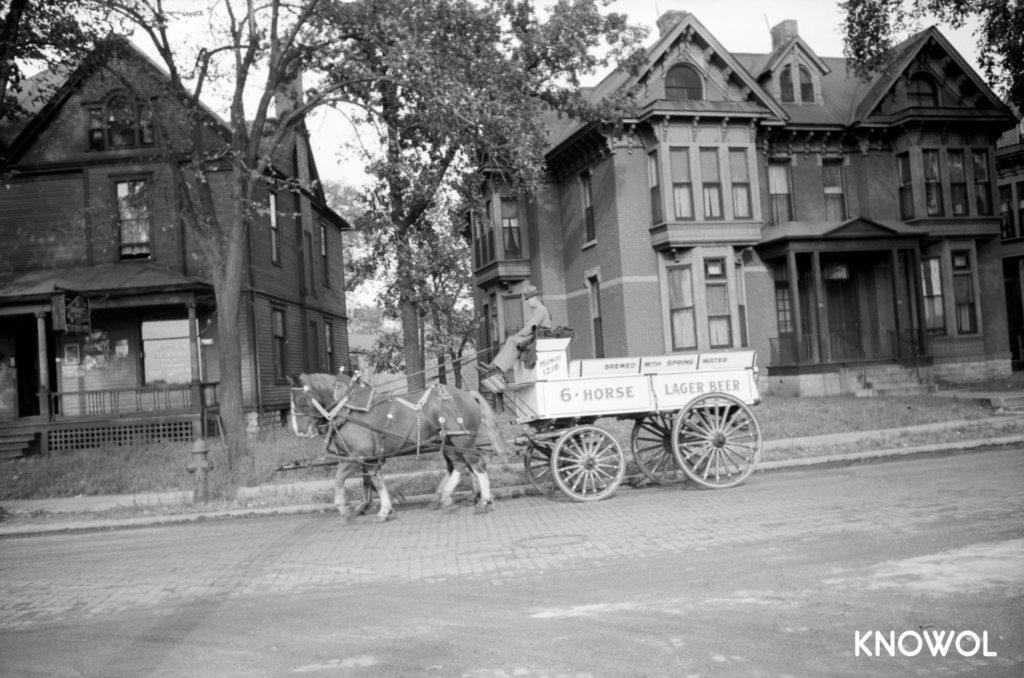 A horse drawn cart delivering beer around Minneapolis. The side of the cart says "6 horse lager beer, brewed with spring water".
There are clearly only two horses.
Who knows what else they lied about.
#14. Pregaming a Square Dance – Pie Town, NM – 1940
These guys are headed to a square dance in town.
#15. One for the Road – Pie Town, NM – June, 1940
Early pioneers in the art of the pre-game.
#16. Cross Roads Store & Bar – Melrose, LA – June 1940
This placed was called a crossroads store, bar, "juke joint," and gas station. It was located in the cotton plantation area of Melrose, Louisiana. The left building says Frenchie's Beer Garden and the sign above the porch says Frenchies Bar.
#17. Art's Sportsmen's Tavern – Colchester, CT – Nov, 1940
Three men drinking beer in "Art's Sportsmen's Tavern" in Colchester, CT. They couldn't work because of the rain.
#18. Art's Sportsmen's Tavern – Colchester, CT – Nov, 1940
The three men moved to the bar. Notice the Schlitz sign in front of them and the two shotguns behind them. The guns are there in case they realize they're stuck in Colchester and all they have to drink is Schlitz.
#19. Shipyard Workers Drinking Beer in Bath, ME – 1940
Shipyard workers stop in for a beer after work. The quality of the picture isn't good enough to conclusively see what type of beer they're drinking, but we're pretty sure it says "Trappest Ale".
#20. Finnish Workers Drinking Beer – Starke, FL – 1940
Finnish construction workers from New York who came to work in Florida. They're drinking beer and spending their leisure time in a recently opened cafe near Camp Blanding. They were unable to work because of heavy rains.
Feel free to cite this article the next time it rains and you call out.
#21. Shasta Dam Laborers – Central Valley, CA – 1940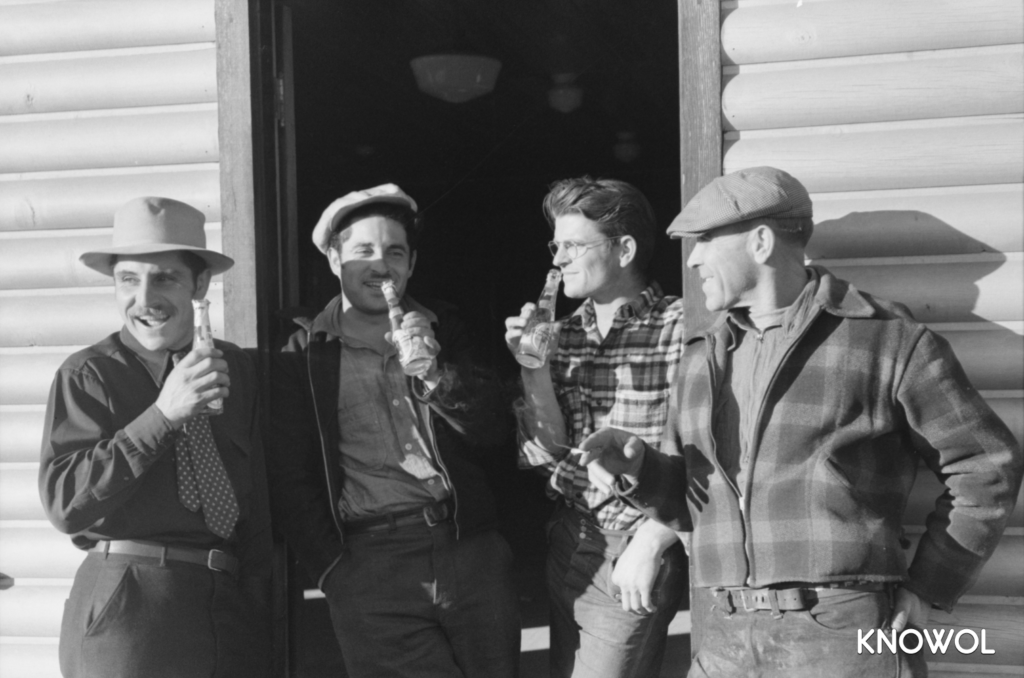 Shasta Dam construction workers drinking beer at a bar in Central Valley, California.
#22. Beers in the South Side of Chicago – April, 1941
Drinking Pabst Blue Ribbon at a tavern on the South Side of Chicago.
#23. Farmers drinking beer – Jackson, Michigan – 1941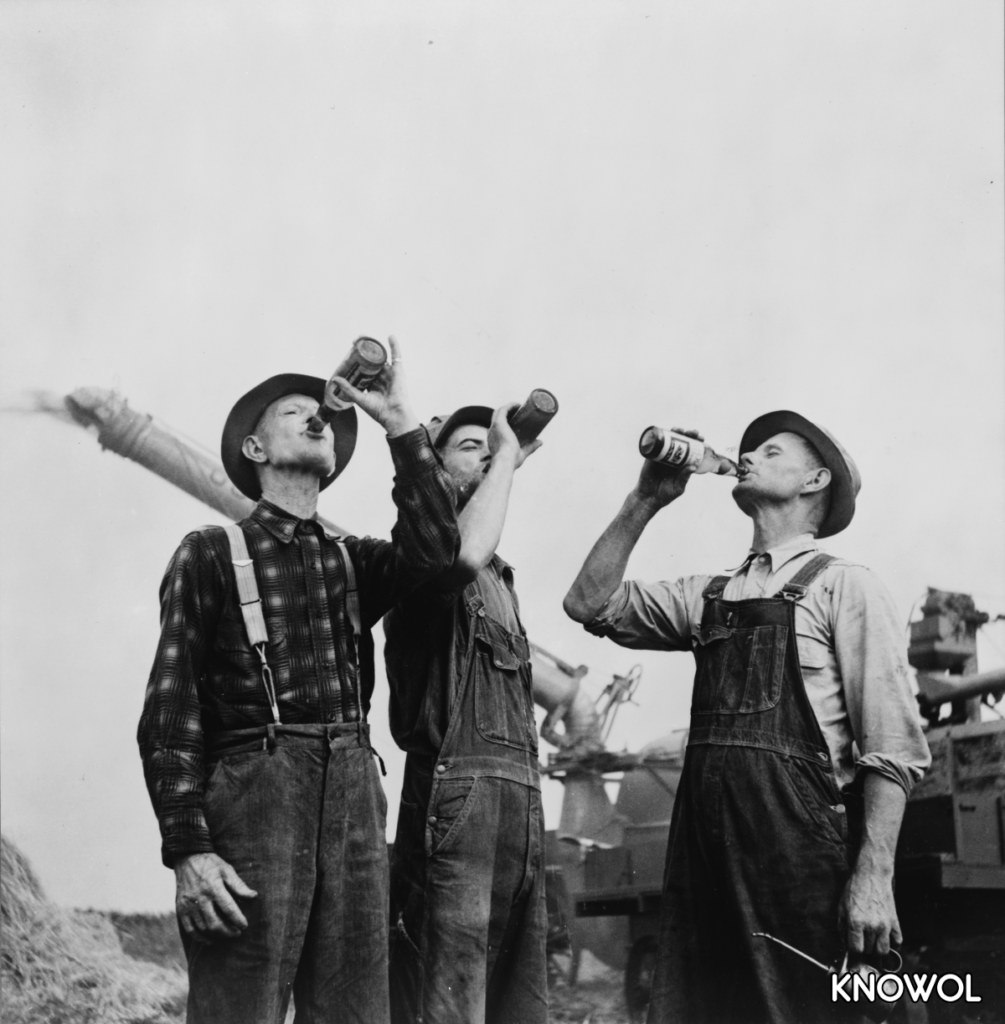 Farmers from Jackson, Michigan chugging beer in the fall of 1941. With their busy season ended, they now had nothing else to do but drink themselves through the winter.
#24. Beer Parlor – Bruce Crossing, MI – August, 1941
This beer parlor was part of a Finnish settlement in Bruce Crossing, Michigan. See the guy in the hat? He's about to take a shot.
#25. Drunk on a Sunday afternoon in Bruce Crossing, MI
And that's why you don't take shots. You turn into Barney Gumble.
#26. Keeping beers cold in a stream – Mohawk Trail, MA – 1941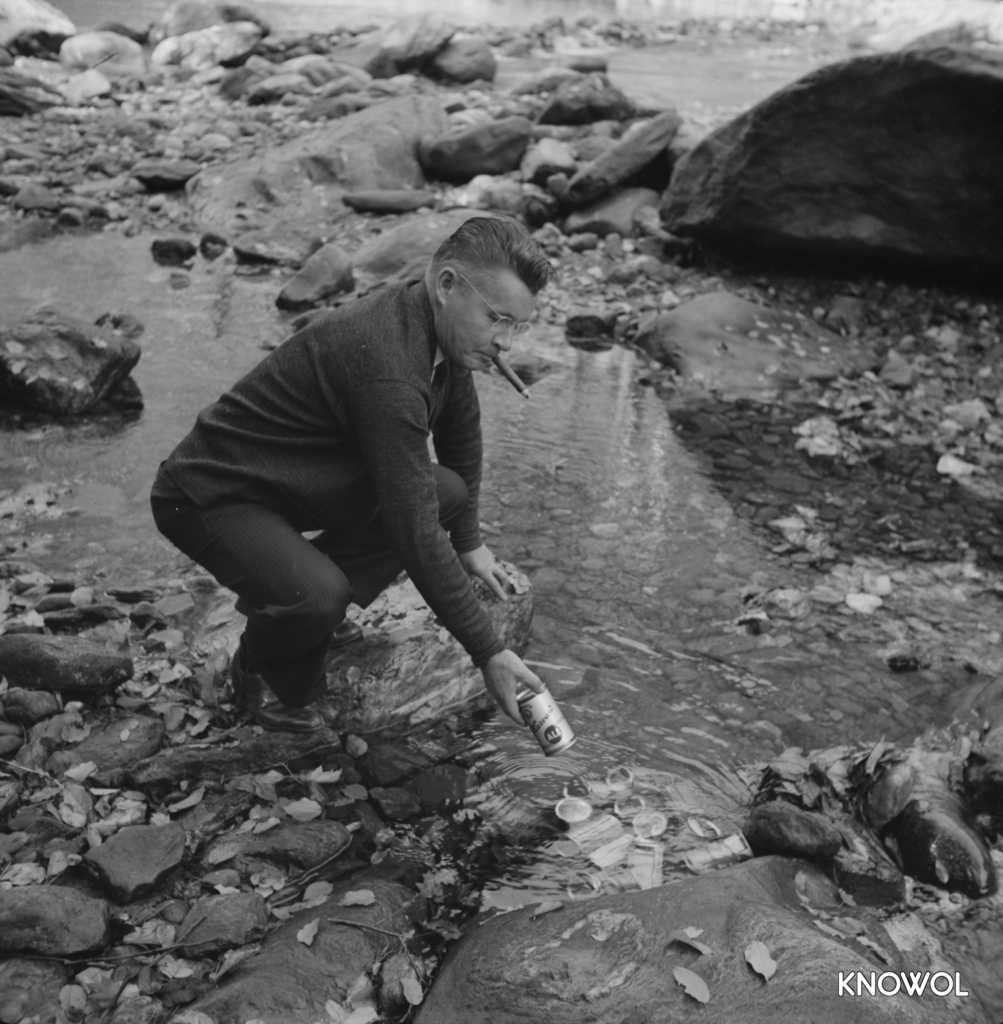 Now this is ingenious. This guy kept his beers cold by putting them in a stream. The picture was taken in October at a camping site along the Mohawk Trail in Massachusetts, so it was definitely cold enough. Life Pro Tip: Purposefully forget your cooler and show everyone how resourceful you are.
#27. Seven Can Limit at the Army Base – 1942
Sgt. Henry Klein of New York City was the manager of the United States Army Forces in the Middle East in Cairo, Egypt during WWII. In this picture he is seen selling U.S. Army Technician Ralph Lohman his ration of American beer. Lohman is so happy that he literally kisses the can.
Each service member was allotted seven cans for the month of September, and future deliveries were uncertain.
Tree House Brewing Company in Monson, MA has implemented a similar rationing strategy with eerily similar results. Grown men are often found posing for pictures while kissing their cans.
#28. U.S. Marines Drinking Japanese Beer – 1943
Marines holding bottles of Japanese beer and wine on Tarawa, the site of the Battle of Tarawa. The photo was taken between 11/20/1943 and 11/23/1943, meaning these men were likely involved in the battle. 6,000+ people died, including 1,700 Americans.
The official caption of the photo reads:
Three Marines examine bottles of native Japanese wine and beer they found when they landed on Tarawa Island. The Marine on the left is wearing a laborer's coat and hat and holding a bottle of saki (native rice wine). The Marine in the center holds a bottle of Kirin (beer) and is wearing the cap of an Imperial Japanese Marine, while the Marine on the right holds a bottle of Asahi (also beer).
#29. Girl Alone at Sea Grill Bar – Washington, DC – 1943
Girl sitting alone in the Sea Grill, a bar and restaurant waiting for a pickup. She told the photographer,
"I come in here pretty often, sometimes alone, mostly with another girl, we drink beer, and talk, and of course we keep our eyes open–you'd be surprised at how often nice, lonesome soldiers ask Sue, the waitress, to introduce them to us."
If you look at the window behind the girl, you can see a guy creepily waiting to "surprise" her.
#30. Girl No Longer Alone – Sea Grill Bar
The girl has picked up two soldiers since coming into the Sea Grill alone. They're sharing a drink called loneliness, but it's better than drinking alone. Who would have thought that a young single woman drinking alone in a bar would attract attention?
Take notes ladies!
#31. The Cat Burglar – NYC – 1947
A patron of one of NYC's original dives, "Sammy's Bowery Follies," sleeps at his table while the bar cat drinks his beer. This picture was taken in December 1947. Some say the cat still roams the city drinking unattended beers today.
#32. Beer Delivery – Akron, OH – 1933
4/9/1933: Local brewers announced they wouldn't have any of their beer properly aged before May 1, so Cleveland had to get their beer from outside sources. Nowadays some breweries would just release it and tell customers that the flavors are "intensified by a bold, quenching, lasting bitterness."
This photo was taken at Renner Brewery in Akron, Ohio.
#33. Father Teaching Son – 1973
The picture is captioned
"10/1973: Ernest Watkins of Mulky Square, a father of nine who likes his beer and likes teaching his three year old son to like it too."
Nowadays the photo would read:
"10/2017: Photo of child abuser Ernest Watkins of Mulky Square before he was arrested and children taken into custody of DCF."
Just joking. We're sure the kid turned out fine.
#34. When Drunk Boating Was Legal – Missouri – 1973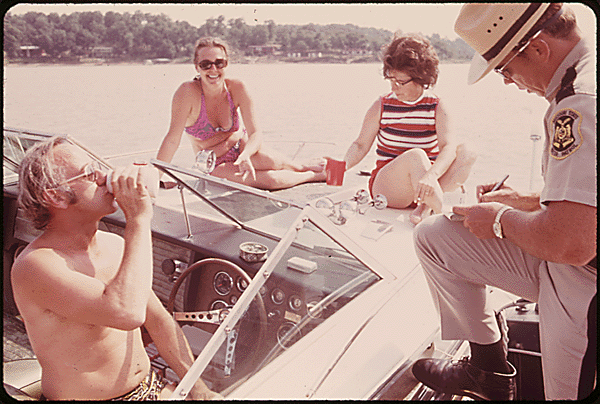 This picture was captured in June 1973 at Lake of the Ozarks State Park. The picture shows water patrol supervisor Dan Needham during a routine inspection of a boat. He noted that all aboard were in high spirits and very friendly.
Beer was much in evidence, but he explained to the boaters that arrests for intoxication were only made if the boat operator was in danger of losing complete control of himself and his boat. There must have been some wild boat rides back in the day.
#35. Thank You Beers – New Ulm, Minnessota – Oct. 1974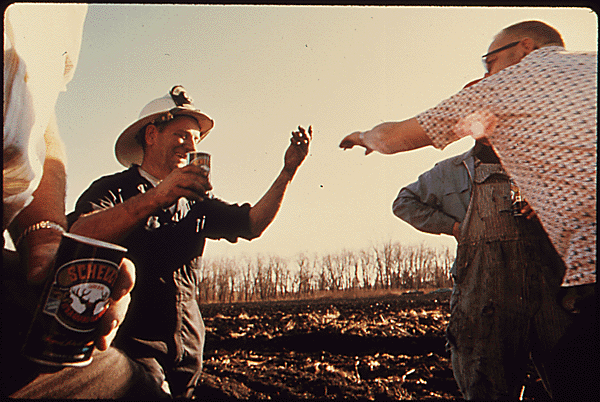 After a large brush fire was extinguished, this grateful farmer handed out locally made German-style beer as a thank you to those who helped. What a guy.
#36. Oktoberfest – Helen, Georgia – September, 1975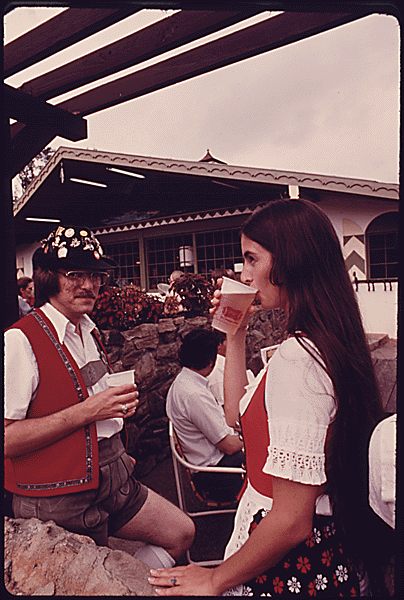 Visitors of German ancestry attending the fifth annual Oktoberfest in Helen, Georgia. The guests drank beer on the outdoor courtyard of the Wurst Haus Restaurant on the town's main street.
The village only had a population of 270 people but gained recognition after residents, businessmen and officials endorsed renovating the business district to have a Bavarian Alpine theme. The project led to increased business and additional tourism.
The Wurst Haus Restaurant eventually closed. Residents said
"It was the worst."
#37. Beer Line on the USS AMERICA – Feb. 1991
Sailors line up on the flight deck of the aircraft carrier USS AMERICA (CV-66) to take advantage of the offer of two cans of beer per man after 45 days at sea providing support for Operation Desert Shield and Operation Desert Storm. You think a ship called the USS AMERICA would have more beer.
#38. Enjoying a Two Can Allotment – February 1991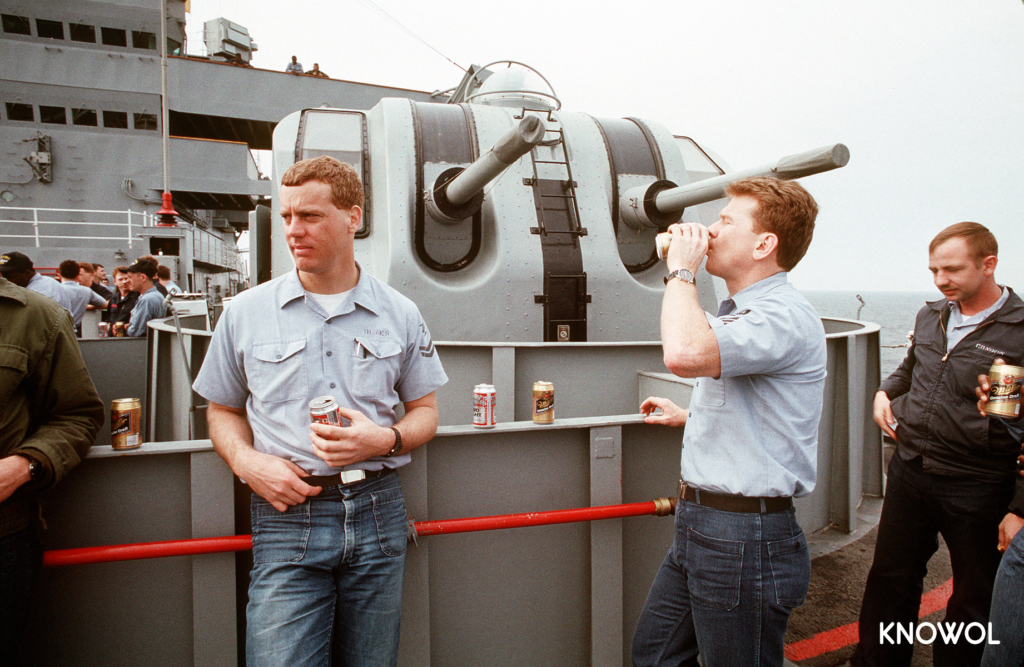 Sailors aboard the amphibious command ship USS BLUE RIDGE (LCC-19) take advantage of the offer of two cans of beer per man after 45 days at sea providing support for Operation Desert Shield and Operation Desert Storm.
#39. DoD Microbrewery – October, 1998
10/16/1998: Members of the Material Management Office, Division Support Command (DISCOM), 2nd Infantry Division, enjoy free hors d'voeuvres and a sample of the four beers brewed in house at the one year anniversary of Reggie's Beverage Co. & Microbrewery at Camp Casey, in Tonduchon in the Republic Of Korea.
At the time Reggie's was the only Department of Defense (DoD) owned and operated microbrewery.
Thanks for reading!