Savin Rock was an amusement park in West Haven, Connecticut that operated from the 1870's – 1966. The park was created by George Kelsey, a local entrepreneur who extended the trolley lines to the area of the park and built a 1,500-foot pier at the end of Beach Street to accommodate a ferry service.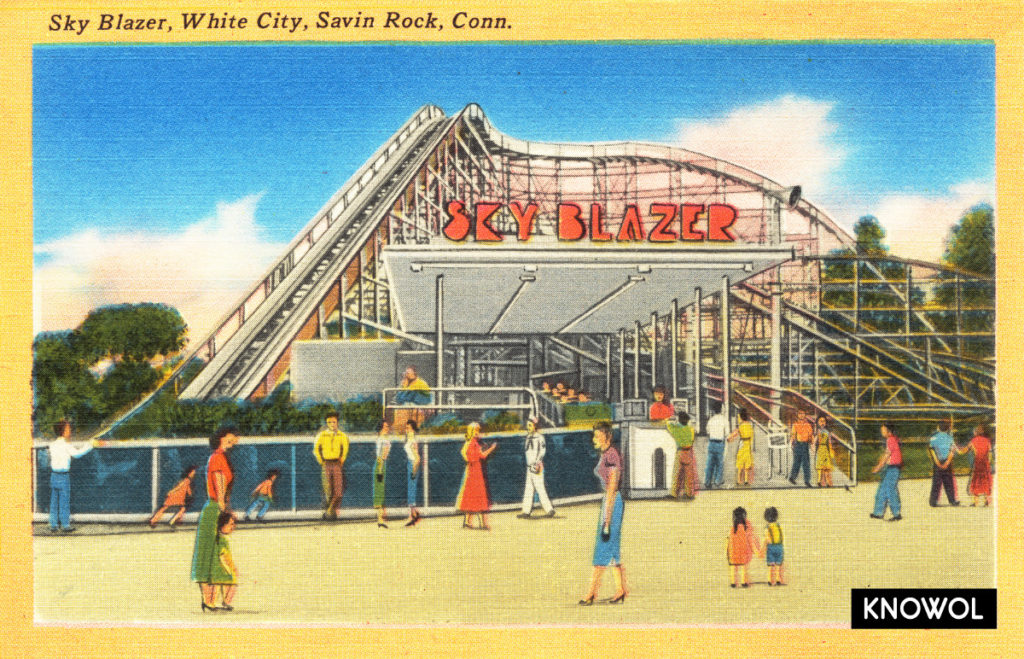 He also built the nearby Seaview Hotel, which had rooms for up to 150 guests. A beach side resort grew around the hotel and pier, including a bandstand, a fountain, an observatory, a wooded picnic area and a carousel which was originally spun by men, and later by horses.
Amusements were built by other are businessmen, and soon the park had a zoo, a museum and a dance hall. Promoters organized cock fights, horse races and prize fights.
In 1903 carnival rides were added and the area was officially opened as an amusement park called the White City with an entrance at the corner of Savin Avenue and Thomas Street. The area around it, including Rock, Campbell and Beach streets, was home to theaters, restaurants and hotels.
At its peak, "The Rock" had a mile-long midway, with roller coasters, water chutes, carousel rides, bumper cars, fun houses, concerts and marathon dances. Visitors enjoyed shore dinners with frozen custard and split hot dogs, drank "honeydew," munched on popcorn, and consulted mechanical fortune tellers or The Laughing Lady.
Savin Rock had a variety of rides, including its oldest, The Old Mill, built in 1904. Another ride was Shoot-the-Chutes, which was rebuilt and renamed The Mill Chutes, featuring a moving stairway saving ride-goers a hike to the ride entrance.
Other rides were the Jitterbug, The Virginia Reel, and The Seaplane Swing. Savin Rock also had several roller coasters such as The Sky Blazer, The Racer, The Whirlwind Racer, The White City Flyer, and The Thunderbolt.
By 1919, the park, now called Savin Rock Amusement Park, was attracting 1.2 million visitors each year. Liberty Pier was added to the park in 1922 and along with it came "The Devil", a new roller coaster, and a funhouse named Bluebeard's Castle. The pier was destroyed by fire in 1932.
The Great Hurricane of 1938 flattened Beach Street and destroyed The Devil and The Thunderbolt rollercoaster. The park endured and another Thunderbolt was created.
There were plans to enlarge the park in the 1950's, but in the 1960's the park began to lose popularity and became run down. Savin Rock park closed in 1966.
Many artifacts from the amusement park are preserved in the Savin Rock Museum and Learning Center in West Haven. Click here to purchase a high resolution reproduction of these vintage postcards.